2021 CIH Scotland housing awards shortlist announced
---

---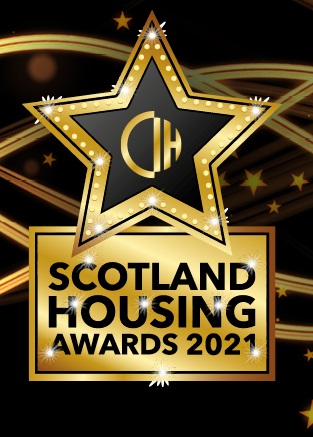 CIH Scotland has announced the shortlisted nominees for the 2021 Scotland housing awards.
In an unprecedented and challenging year, the awards recognise and celebrate the creativity, passion, and innovation of housing organisations and individuals across the sector in Scotland, and aim to highlight those who have helped to steer and support tenants, customers and communities through these difficult times.
The 2021 shortlisted nominees are as follows:
Communications in a crisis award:
Berwickshire Housing Association: Better Comms Team & Digital Champions
Blackwood Homes and Care: #ImInAwe
Wheatley Group: A route through a pandemic
Excellence in customer service award:
Linstone Housing: Linstone Estate Team
River Clyde Homes: River Clyde Homes' Community Caretakers: Caring for Buildings, Building Communities
Wheatley Group: Wheatley Group Environmental Team
Excellence in housing innovation award:
Dumfries and Galloway Housing Partnership: Amazon meets Annan: a cutting edge repairs service for rural housing stock
Eildon Housing Association: Springfield Place, St Boswells, Scottish Borders: Partner organisation: John Gilbert Architects
Elderpark Housing: Taking Tenant Engagement to the Next Level: Partner organisation: Target Applications
North Lanarkshire Council: New energy efficient technology for windows and doors
South Lanarkshire Council: South Lanarkshire's Virtually Excellent Approach
Stirling Council: Technology Enabled Care for Homeless Clients in Stirling: Partner organisation: HomeLINK and Wheatley Care
Excellence in championing equality and diversity award:
East Ayrshire Council: Provision for Gypsy / Traveller Communities
PATH (Scotland): Positive Action Traineeships
Wheatley Group: Recognising and Responding to Hate Crime
Excellence in working in partnership award:
East Ayrshire Federation of Tenants and Residents: Tenancy Agreement Video - EAF/EAC: Partner organisation: East Ayrshire Council
Eildon Housing Association: Scottish Borders Community Food Hub: Partner organisation: Cyrenians
Hillcrest Homes: Hillcrest and Abertay Emergency Covid-19 Funding: Partner organisation: Abertay Housing Association
Kingdom Housing Association: Graduate trainee programme: Partner organisation: University of Stirling
Queens Cross Housing Association: Emergency Food Support: Partner organisations: Glasgow City Council, Scottish Government, Glasgow and West of Scotland Forum, Community Central Halls, Flourish House, Woodlands Community Development Trust, Bike for Good, Community Central Halls
South Lanarkshire Council: Emergency First Stop Accommodation, Barrack Street, Hamilton: Partner organisations: University of Scotland, YPeople, Police Scotland, Scottish Fire and Rescue and our partners in Health and Social Care
Excellence in professionalism award:
Winner to be announced on the night
Excellence in development for affordable housing award:
Eildon Housing Association: High Street, Selkirk
Elderpark Housing: Nethan Street and Hills Trust Development
Hillcrest Homes: Edmonstone, Edinburgh
Kingdom Housing Association: Bertha Park, Perth
Kingdom Housing Association: Fraser Avenue, Inverkeithing
Kingdom Housing Association: South Avenue, Blairhall
South Ayrshire Council: Houdston-reid Lea
Best frontline housing story award:
Craigdale Housing Association: Craigdale Housing Association staff team
South Ayrshire Council: Muirhead Tenants & Residents Association
Ypeople: Sophie Bouchayer, Katie Biggs, Olufemi Fasoro, Iain McIntyre, Kevin Murray, Jenna Saperia, Kirsty Duncan, Donald Oliver: Partner organisation: Sacro
Housing team of the year award:
Fife Council: Gavin Smith (on behalf of the staff across Housing Services, Building Services and Business Support teams)
Hillcrest Homes: Euan Hird, Gemma Shields and Craig Thompson
Homes for Good CIC Scotland: Joey Lawrie, Caitlin Gordon, Claire Nelson, Lise Lovati, Tracie Kelly, Stuart Sargent, Laura McNeil, William Munro
Kingdom Housing Association: Housing Team
Kingdom Housing Association: Capital Investment Team
North Lanarkshire Council: Gillian Whitehead and Anne Hanlon
Scottish Refugee Council: Destitution Asylum Seekers Service, Esther Muchena
South Lanarkshire Council: Sharon Egan and Billy Graham
Inspirational young professional award:
Argyll and Bute Council: Aileen Semple
Berwickshire Housing Association: Jamie Aitchison
Dunedin Canmore: Niamh Flannigan
Elderpark Housing: Lindsay Roches
Glasgow Housing Association: Hannah Dodds
Kingdom Housing Association: Eilidh Macdonald
Queens Cross Housing Association: Jade Holbein
Scottish Refugee Council: Grant McPhail
Excellence in leadership award:
Winner to be announced on the night
The award winners will be announced on 4 February 2021 from 15:00 – 18:00 on a virtual platform which will provide attendees with the opportunity to sit and chat with colleagues and mingle with other guests at a virtual bar.
Commenting on the shortlist, CIH Scotland chair Esther Wilson said: "Despite a hugely challenging year, I am delighted that the housing sector is able to continue to come together to celebrate and showcase the fantastic work of both individuals and organisations across Scotland.
"The quality of the shortlisted entries is testament to the ongoing commitment and resilience of the sector to continue to deliver outstanding services to tenants in particularly difficult circumstances and I am looking forward to celebrating with you all in February as we look ahead to better days to come."
CIH Scotland director Callum Chomczuk added: "Given current circumstances, we are extremely pleased that the housing awards are able to go ahead in February using our fantastic online platform and we hope that individuals and organisations will use this opportunity to come together to show your support to nominated friends and colleagues.
"While things will inevitably be a little different this year, we hope that you will be able to join us as we announce our award winners and celebrate the outstanding achievements of Scotland's housing sector."
For more information and to book a place, please visit here.