Ardenglen Housing Association celebrates 30th anniversary with £3.7m homes boost
---

---
Ardenglen Housing Association has delivered a £3.7 million homes boost for Castlemilk with the unveiling of 22 new homes in the same week the organisation marked its 30th anniversary.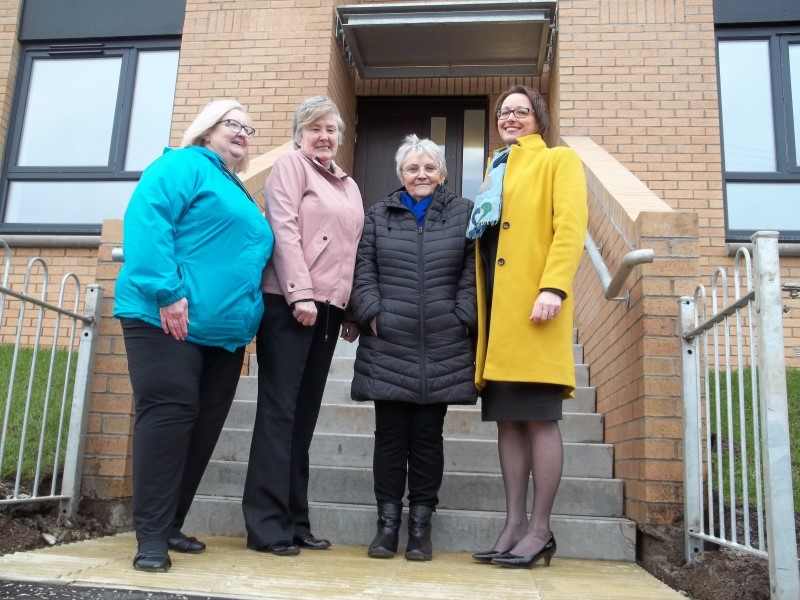 Audrey Simpson, chief executive called the new homes "the perfect way" to celebrate three decades of service to the Castlemilk community.
Tenants have started moving into the properties – built by McTaggart Construction – on Ardencraig Road. The first to get the keys to her new one-bedroom home was tenant Jane Clarke who moved from a first floor flat to a ground floor property.
Ms Clarke said: "I am absolutely over the moon with my new home and thrilled to be the first to move in. A ground floor property will make all the difference to me and I feel very fortunate to have been offered one of these new properties. It is a dream home in every way."
Ardenglen's 'Cathkin 7' project creates a new landmark development where once there were disused school playing fields at the former St Martins primary school.
The development consists of 15 one, two and three-bedroom flats, four two-bedroom houses and three wheelchair-accessible flats. The new housing has come about with financial assistance from Glasgow City Council and the Scottish Government of just over £2m.
Ms Simpson added: "We are very grateful to Glasgow City Council and the Scottish Government who share our vision of creating affordable new homes. We are all working together to bring real benefits to the communities we serve.
"Everyone will welcome these new homes. Ardenglen is deeply committed not just to making our communities great places in which to live but to building new homes which people really want. We also want to thank McTaggart Construction for its excellent work throughout the building process."
Maureen Cope MBE, Ardenglen chair, said: "This is great news for Castlemilk. The development has transformed an area of waste ground and once again delivered on Ardenglen's promise to build homes for our community."
Councillor Kenny McLean, city convenor for neighbourhoods, housing and public realm, added: "It's great to see the completion of more new homes in Glasgow, this time these 22 new homes in Castlemilk.
"We helped to fund the building of these homes, and were delighted to work with Ardenglen Housing Association on this project, which will not only improve the lives of the new tenants but add to the regeneration of the area. The Association has played a key role this regeneration over the past 30 years."