Bield helps create apprenticeship opportunities with new contractual clause
---

---
An apprentice has benefited from a new contractual clause between a maintenance company and Bield Housing and Care to create apprenticeship opportunities.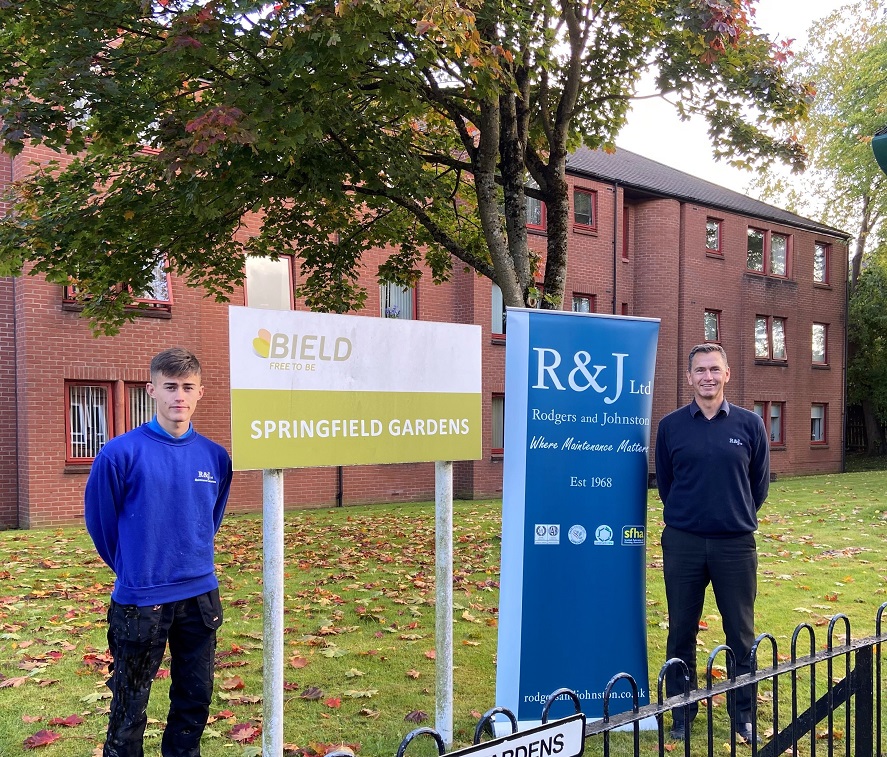 17-year-old Marcus Mackenzie secured an apprenticeship at Rodgers & Johnston Ltd (R&J Ltd) after the firm agreed a new Community Benefit Clause with Bield.
The clause requires the maintenance contractor to deliver their service while providing a range of economic, social and environmental conditions to help benefit the local community.
One such condition was the employment of a new apprentice who is from the geographic area in which the company is operating in.
Marcus, from Holytown in North Lanarkshire, said: "The apprenticeship has been a great opportunity for me to get my foot in the door of an industry I am passionate about.
"R&J Ltd is a fantastic company and has allowed me to develop my skills as well as introduce qualities such as self-discipline and problem solving.
"One of the partnerships we have is with Bield, and they are brilliant to work with. The customers are always very welcoming.
"One of the joys of this job is meeting and speaking with new people every day and hearing their stories. Every day is different and it is one of the many reasons why I like working on Bield developments."
Marcus found out about the apprenticeship while in 4th year at Brannock High School.
Now well into the second year of the four-year apprenticeship, Marcus hopes to remain at R&J Ltd in the future.
R&J Ltd has worked closely with Bield since 2009 on multi-trade contracts.
The maintenance firm conduct repairs, voids and medical adaptations works for Bield as well as delivering a 24-hour emergency response service.
Greg Johnston, director of R&J Ltd, said: "We were committed to hiring a local apprentice when working in various regions. Therefore, the Community Benefit Clause allows us to enact upon this and ensure we are giving a young local person the opportunity to gain valuable work experience.
"We have continued working right throughout lockdown providing crucial repair works for some of the most vulnerable people in our communities, and it is testament to our work force that they have committed themselves to implementing essential repairs works to all those who have needed it.
"Our guys were faced with a lot of, understandably, apprehensive customers. Using PPE is something that our team are familiar with. However, the guys had to adapt to the safety procedures put in place, such as social distancing, in order to protect themselves and the customers and we adapted very quickly.
"Bield is incredibly rewarding to work with, and we feel that we have formed a strong partnership with them over the years. There are fantastic communication lines between us and Bield. We feel we are very much part of a team."
R&J Ltd is one of many partnerships Bield has with maintenance contractors.