Busy AGM told of Ardenglen's commitment to continuous improvement
---

---
Ardenglen Housing Association's members received an upbeat message of continuous improvement at its AGM this week.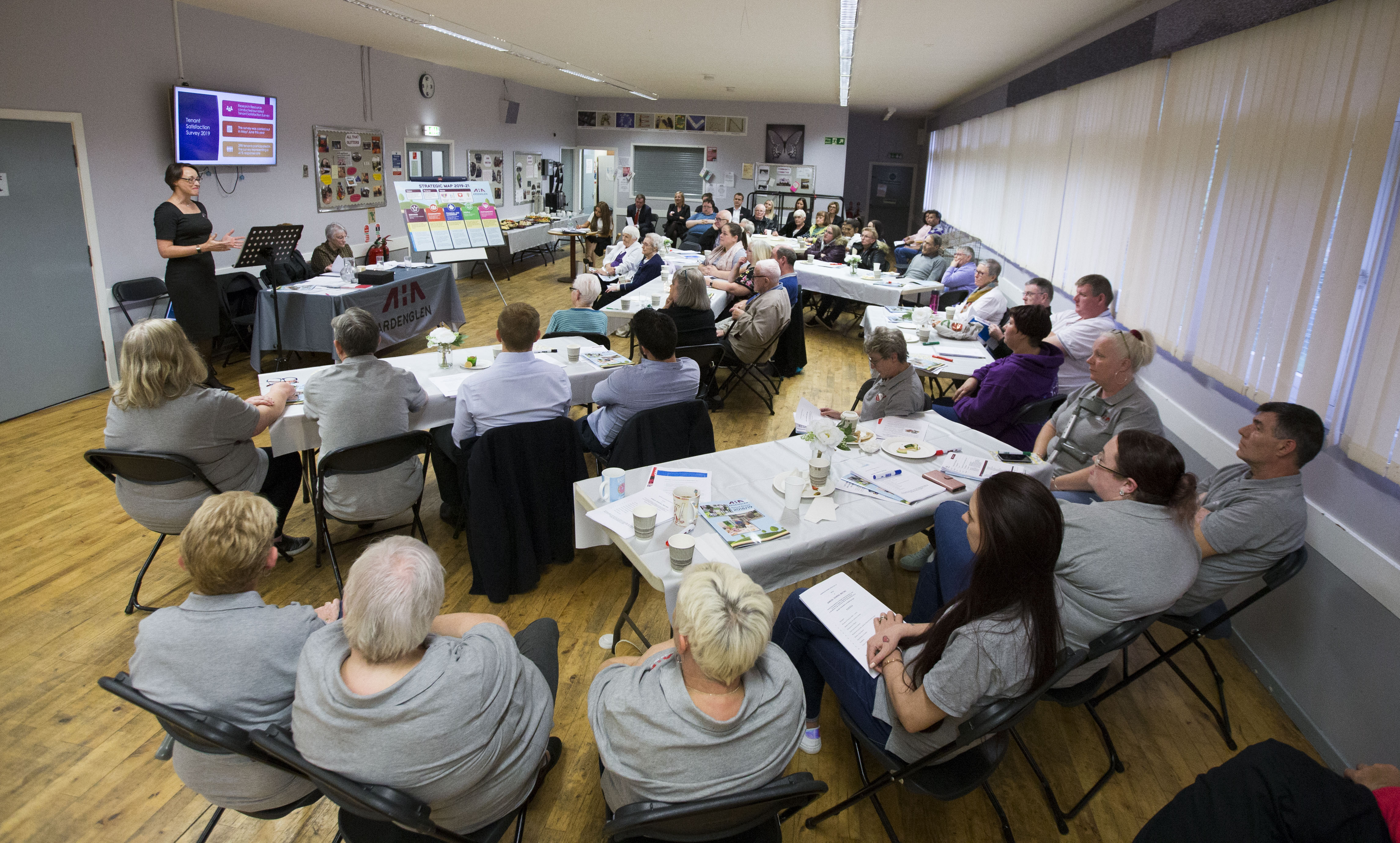 New homes for Castlemilk were nearing completion, voids have been dramatically reduced to a third of the Scottish average and a new 'Strategic Map' now sets out what Ardenglen will do in the coming years.
Delivering her chief executives message to a very busy AGM, which was strongly supported as usual by the Castlemilk community, Audrey Simpson spoke of "change and progress".
Ms Simpson said: "It is important for Ardenglen to make sure we continue with clarity of purpose and operate with passion and commitment to the community we serve. To do that, we had to rejuvenate our purpose to inspire our tenants, staff and the community to push for more.
"I know the importance of a map to make sure you can get to where you want to go. That is why we have developed our Strategic Map. The map sets out our direction of travel for the coming years and provides a compelling vision, purpose and organisational values.
"And in the true spirit of the housing association movement, we will carry on transforming communities by providing aspirational homes and services and to enhance the quality of life for our customers."
Members were also told there is to be a new 'Community Plan' underpinned by input from residents.
Ms Simpson added: "The plan is led by the community, will fully reflect the views of the community and we hope owned by the community. This will provide us with real insight to take to key partners and to develop new initiatives, services or projects."
Meanwhile, Ardenglen chair Maureen Cope MBE listed a series of achievements including the number of voids slashed significantly and almost £800,000 spent on renewing windows and doors. Feedback suggested tenants now find it easier to heat their homes at a time of continuously soaring fuel bills.
Ms Cope singled out the Scottish Government and Glasgow City Council for helping to fund the 22 new homes Ardenglen is building and praised builders McTaggart for its construction performance.
She added: "Welfare rights continues to be an important part of our work with £622,807 gained for those who came looking for help – a truly astonishing achievement and something we are very proud of."
Finally, Ms Cope thanked dedicated board members and hardworking staff at Ardenglen for their commitment to housing and the Castlemilk community throughout another year.
In 2020, Ardenglen will celebrate its 30th anniversary.