Celebration time as Williamsburgh Housing Association marks four decades of achievements
---

---
Williamsburgh Housing Association is celebrating 40 years of improving housing for thousands of families.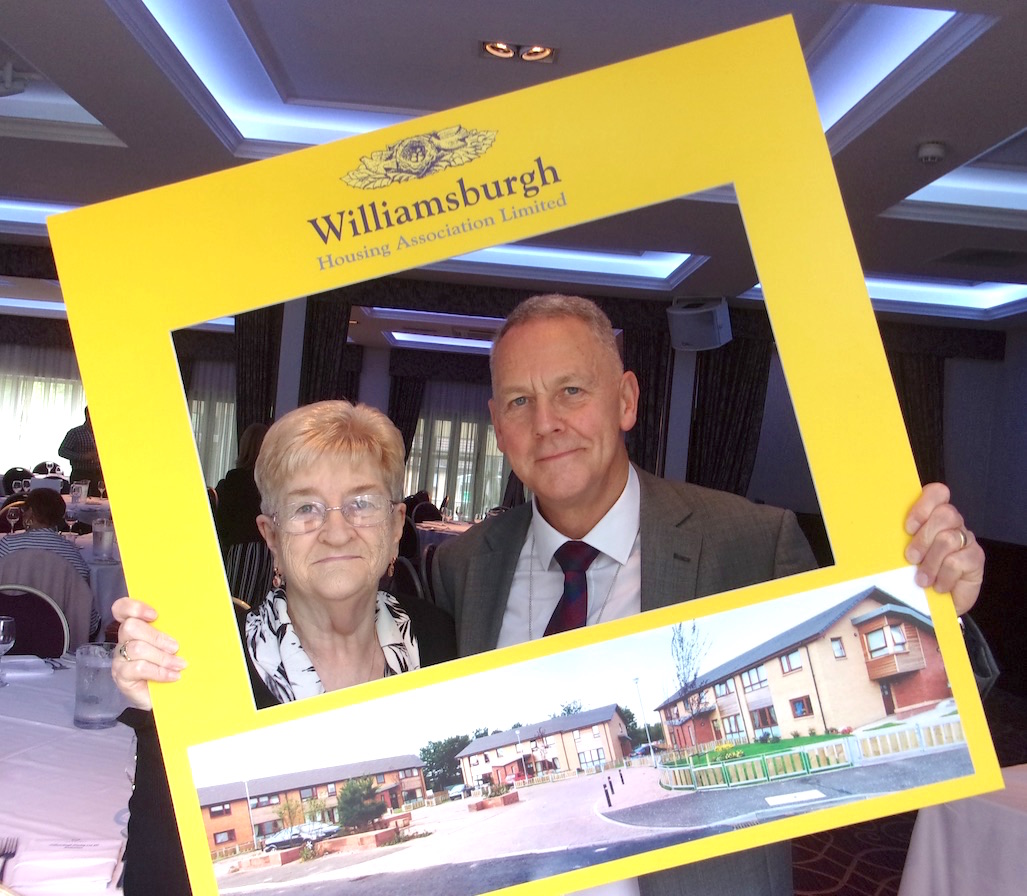 The Association has spent four decades at the forefront of housing in Renfrewshire growing substantially from its small beginning in the east end of Paisley.
Now 40 years on, a celebration event was held to mark its important milestone as it confidently looks to the next four decades.
The event took place in Johnstone as 100 people including staff, members of the management committee and people associated with the organisation over the years gathered to mark Williamsburgh's very happy birthday.
Remarkably, it has been led throughout its four decades by just one director – Gordon Williamson – whose entire working life has been spent at the helm of Williamsburgh.
Speaking at the celebration event Gordon praised the "outstanding vision" of those members of the community who came together in summer 1979 to create a new housing association.
He said: "It hardly seems like forty years ago that Williamsburgh was founded and since then we have always striven to give people the best housing possible, to regenerate areas where we have our homes and to serve our communities to the best of our ability.
"As we look back we can do so with a sense of pride and a firm commitment that we will always put our communities first in the true spirit of the housing association movement."
Gordon also praised the staff at Williamsburgh calling them "exceptional professionals" whose "dedication and hard work" has made Williamsburgh the successful housing association it is today.
Williamsburgh's original task back in 1979 was to renovate Paisley's East End turning it from an area in decline with tenements in a very poor state to a place where the housing stock was upgraded to modern standards - and at the same time preserving Paisley's impressive tenement heritage.
Properties in six closes in McKerrell Street, Ladyburn Street and Lang Street were the first to be improved and a programme of refurbishment was then rolled out under what was known as a "housing action areas for improvement" initiative.
Since then, the Association has widened its reach across Renfrewshire helping more communities by improving housing and building new ones in north Paisley, Renfrew and Johnstone.
The occasion also saw the presentation of three long service awards which were given to Suzanne Sweeney, a housing officer who has been with Williamsburgh for 29 years; Lesley Adie, an administration assistant with 28 year's service and finance officer Helen Burns, who has been on the staff for 26 years. All received an engraved rose bowl and a bouquet of flowers.
Williamsburgh chairperson Margaret Symons said: "Our ruby anniversary is a time for celebration, reflection and looking to the future. We can look back with a great sense of pride about the difference we have made and the homes transformed by the work of Williamsburgh. And that's a legacy anyone can be proud of."