Chair of new Social Security Commission unveiled
---

---
Social security secretary Shirley-Anne Somerville has announced the appointment of Dr Sally Witcher as chair of a new body tasked with scrutinising the Scottish social security system.
The Scottish Commission on Social Security will provide independent and expert scrutiny of the Scottish social security system (including the benefit regulations), holding ministers to account for delivering a system based on dignity, fairness and respect.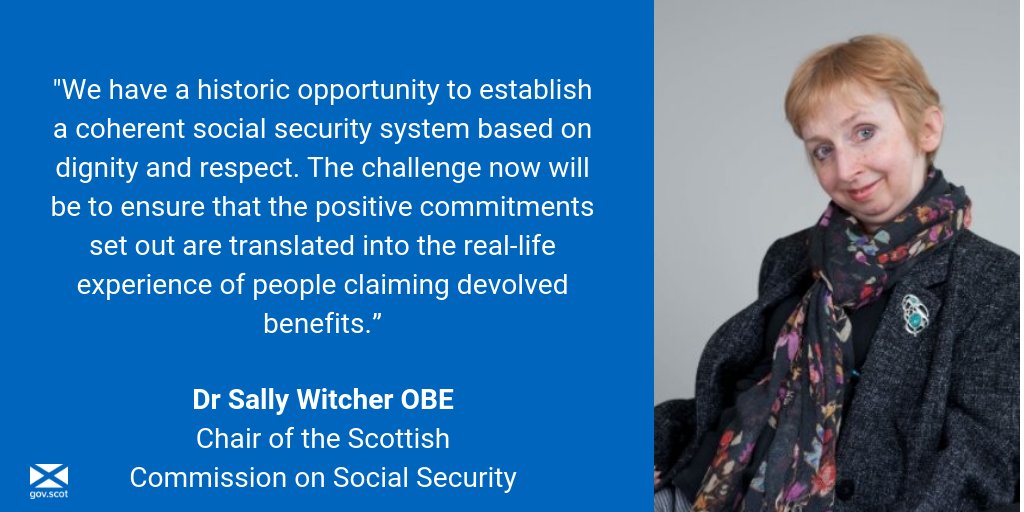 Dr Witcher is currently the chief executive of Inclusion Scotland and has around 30 years of experience working in a range of relevant roles.
Announcing the appointment, Ms Somerville said: "I am delighted to appoint Sally Witcher to this new but vitally important role. As we continue to build a Scottish social security system it is only right that we are held to account for the decisions we take.
"I know that Sally shares my desire to create a social security system based upon the principles of dignity, fairness and respect and I warmly welcome her to this position."
Dr Witcher added: "The Social Security Act Scotland represents an historic opportunity to establish a coherent system based on dignity and respect. The challenge now will be to ensure that the positive commitments set out in the Charter are translated into the real-life experience of people claiming devolved benefits.
"The Scottish Commission on Social Security will have a key role to play in scrutinising developments and promoting accountability. It is a great honour to be appointed to the role of Chair of the Commission."
Dr Sally Witcher is also currently the deputy chair of the Disability and Carers' Benefits Expert Advisory Group and a member of the Scottish Government's Poverty and Inequality Commission.
From 2006-2010 she was a senior civil servant in the Office for Disability Issues, DWP, and, before that, she chaired the Disability Employment Advisory Committee (a UK Government Non Departmental Public Body) and worked in consultancy and academia, based in Edinburgh.
In the 1990s she was the Director of the Child Poverty Action Group. She has been a member of many government and research advisory groups, including for the Centre for Analysis of Social Exclusion at the London School of Economics. Sally is herself a disabled person and A Disability Living Allowance recipient. She was awarded an OBE in 2006 for services to disabled people.