COP26: A new hope for Scotland's future - brought to you by Scotland Excel
---
Hugh Carr, head of strategic procurement at Scotland Excel, explains why it's important that the children have a voice during COP26.

Scotland Excel has been a driving force in public sector procurement in Scotland for more than a decade and we have built up a broad portfolio of contracts, many of which are used by Scotland's schools. Our contracts are used to purchase goods and services which touch every aspect of the school day, from musical instruments, learning to ride a bike and all the other activities children do in the classrooms and out on the playing fields.
We strive to lessen our impact on the environment in all our contracts, and we know that food miles, plastic straws, car emissions and so much more are big topics of debate in schools right now.
The climate emergency affects us all but it's the children and the future generations that will have to deal with the issues our planet is facing unless we all act now.
So, we thought it was important that we heard from the future of Scotland, the school children. Below you will read examples of their environmental work (much of it in their own words) and their hopes for COP26. I hope you enjoy reading them as much as I did, and they inspire you to make a difference.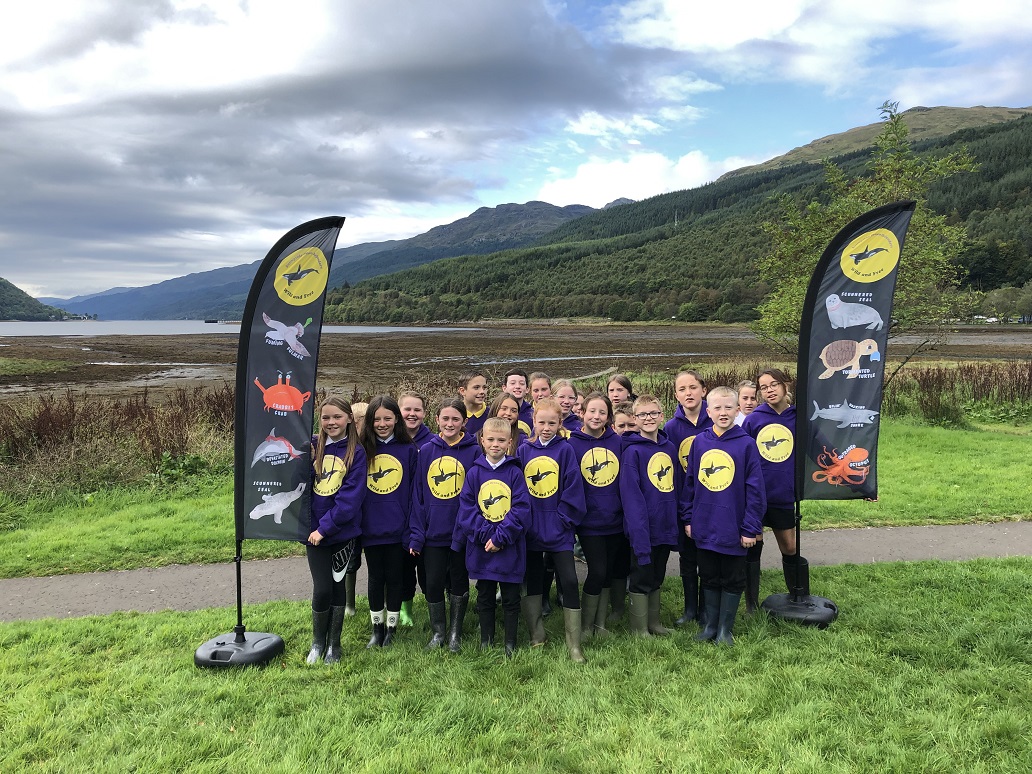 Sunnyside Primary School in Glasgow's 'Ocean Defenders' #DrainCampaign
Being Ocean Defenders, the group had been on many beach cleans before. In fact, they sponsored a beach at Prestwick through the Marine Conservation Society scheme. But this beach wasn't one of the sandy ones along the west coast. This was Arrochar, the picturesque village at the top of Loch Long.
Except the scene that met this group of Primary Seven's wasn't picturesque. In fact, the amount of litter and microplastic that lay before them was pretty grim.
Wellies on and sleeves rolled up the Ocean Defenders didn't hesitate in getting stuck in, because they knew that they weren't here just as part of the solution. They, and the litter from the city they lived in, were a big part of the problem.
Despite being around 40 miles from their urban school, most of the marine litter they had found at Arrochar wasn't created by local people, it came from towns and cities…it came from their streets.
It was in 2015 when the school took their first group of Ocean Defenders to Arrochar and by 2018, they realised that the only solution would be to try and stop the litter at source. That meant with us. Having created several successful campaigns previously, the Ocean Defenders of 2018 launched #DrainCampaign. The idea was simple. To create a visual reminder that litter dropped in our cities can become marine pollution.
Giving it a Scottish spin, the children invented characters such as Crabbit Crab, Scunnered Seal and Fumin' Fulmar – each equally annoyed at humans' bad habits; each with their own type of marine pollution.
This has caught the imagination of the public with the Ocean Defenders taking it on tour to schools and the Inner Hebrides, getting the backing of the First Minister when she visited the school, winning a Nature of Scotland Award for their efforts and pushing for it to become a feature beside Glasgow's drains – backed by the Lord Provost who joined them on a clean at Arrochar. But most importantly, inspiring other young people to do something to protect our oceans.
Our message of hope for COP26 is: "We have 1 Chance 2 Change; young people will ensure that adults put the 'change' in climate change.
From Aaron, Amber and Marc all aged 11.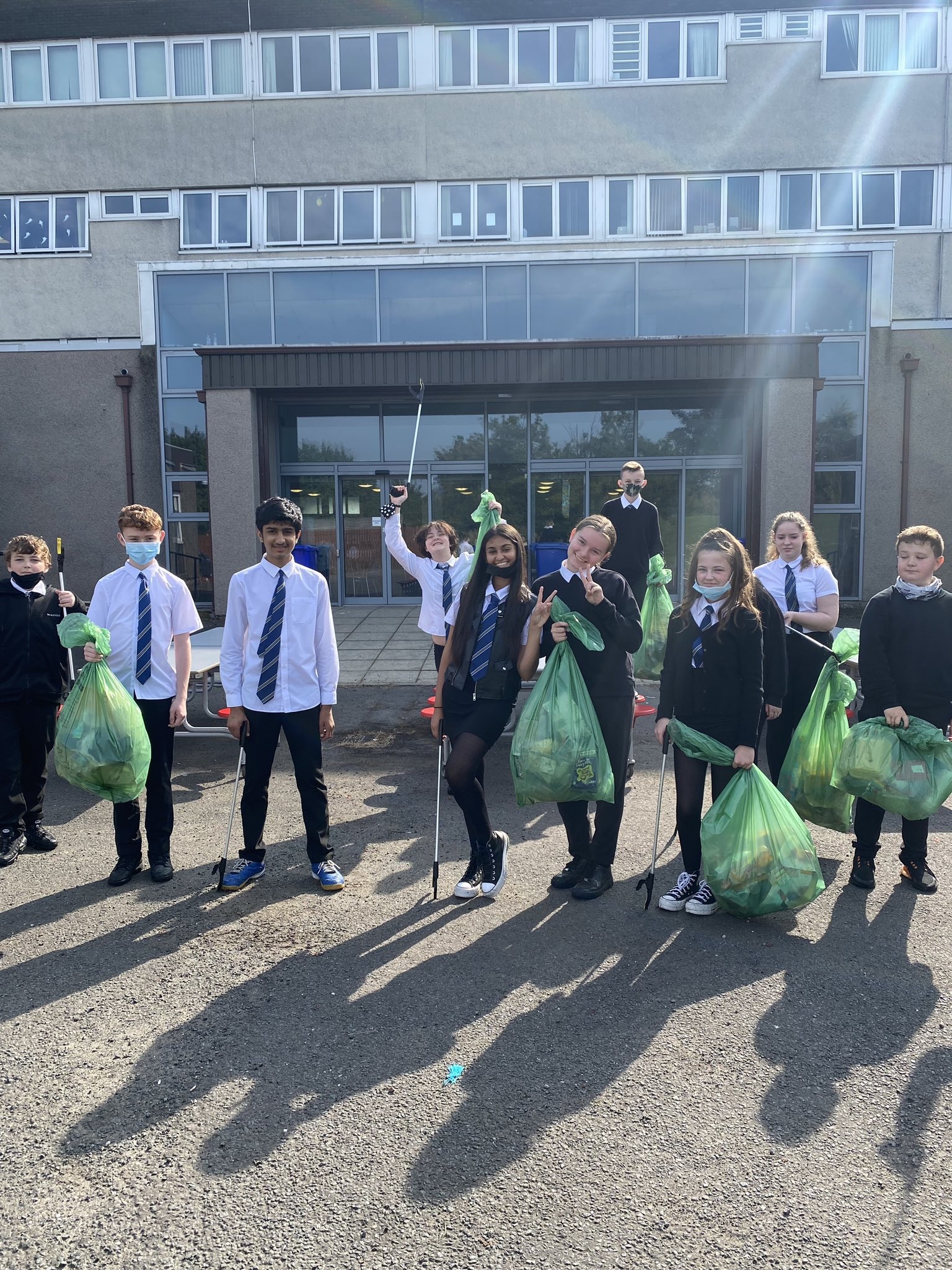 Nina McClure, aged 14, Renfrew High School
As a student at Renfrew High, I have noticed a clear interest from other pupils to make better choices for a more sustainable future. As we change to being more eco-friendly, we need to get used to these new habits to make our future better. Our school has begun to educate younger pupils more about this subject by adding Sustainable Development Goals (SDGs) into the curriculum.
The SDGs, also known as the Global Goals, were adopted by all United Nations Member States in 2015 as a universal call to work hard to end poverty, protect the planet and to make sure that all people enjoy peace and equality by 2030.
These SDG lessons have become available to the younger years of the school (S1s and 2s) and they have been discussing a wide range of things including what we can do in the school to improve the future and the present. They have been learning about poverty, climate action, gender equality and sustainable infrastructures. Pupils have been able to find out what the carbon impacts are from the foods that they love so much, and how they can make better greener choices.
My fellow members of the eco club and I have been focused on making sure that recycling happens across the school, and we are currently working on reducing the use of single-use plastics, by designing and introducing reusable water bottles. Also, teachers and staff have been trying to incorporate more outdoor learning into their curriculum.
As a pupil, I feel that it is mine and my peers' responsibility to make a real change in our community and school if we want a cleaner, more sustainable future. By joining our eco club, it has helped us feel like we have more control over the changes that can be made in the school to make a real difference.
Our message of hope for COP26 is: "We hope the current world leaders look beyond egos and listen and take heed of 'us', the future leaders."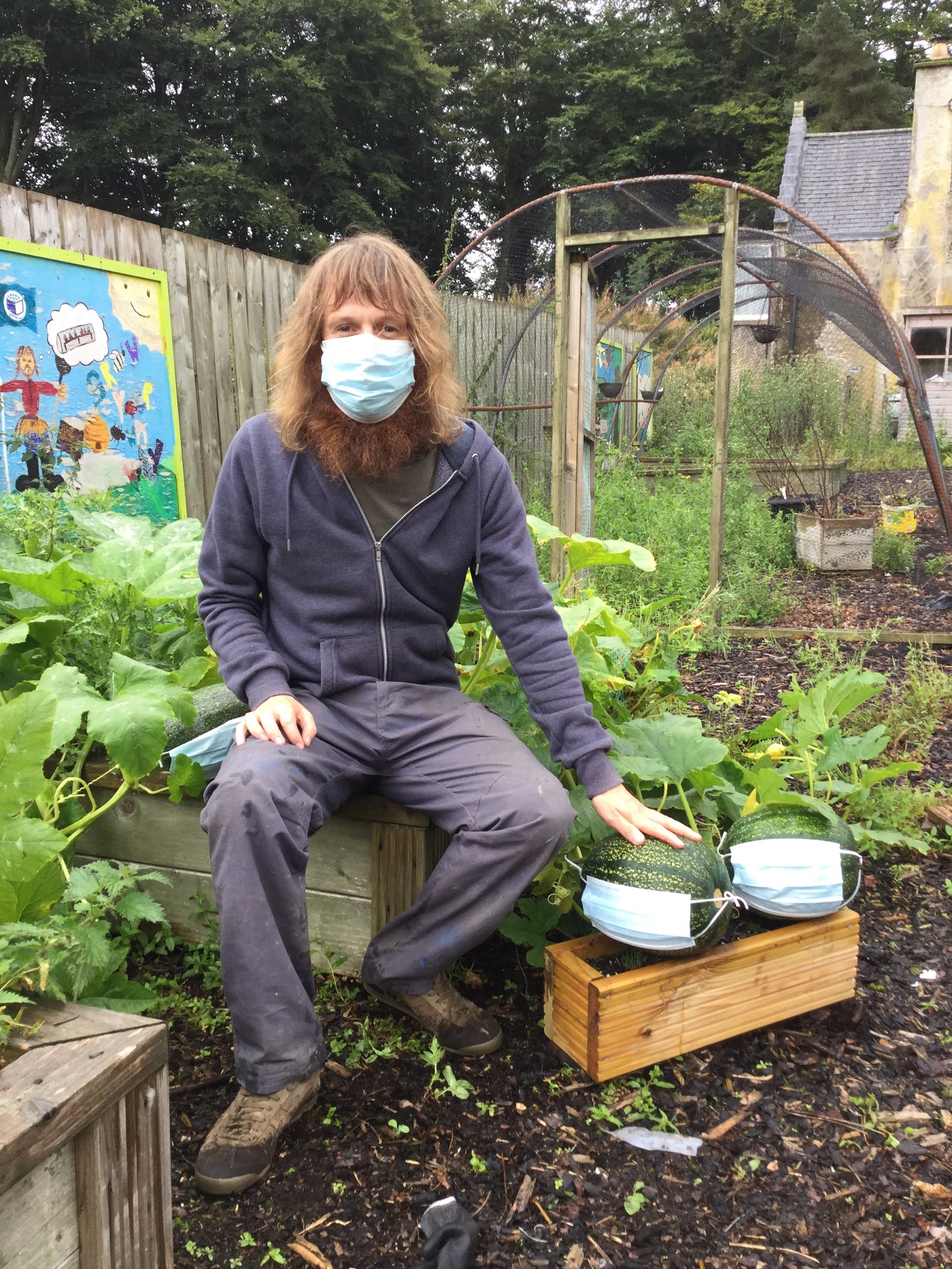 The Good Shepherd Centre in Bishopton's 'Green Shepherds'
With restrictions easing, we decided to get our Good Shepherd schools community garden 'Grow Your Own Way' back on track and formed the 'Green shepherds', our school's Eco-Committee. Our garden had really fallen into disrepair with lots of maintenance needed and weeds growing like you've never seen before. It was amazing to see how our young people from our residential houses took ownership of the garden and pitched in. Getting back outside into nature has really helped improve the mental health of all involved, and when in class the young people are constantly looking forward to our next set of outdoor learning classes.
Even though our garden had been left to grow wild, it just shows how much nature manages to march on, as we still had lots of fruits and vegetables to harvest. We are now monitoring how much produce we grow and how much carbon we have saved. Also, we continue to increase carbon literacy across our centre. We use a lot of our produce in the centre but also try to share as much with the local community as possible. In the past, we have run the Royal Horticultural Societies 'Big Soup Share' and have invited the veterans from the Erskine veteran's hospital to attend. We don't want to let Covid-19 stop this tradition and are looking at new ways to get our soup, and produce, to them and other people who may need and appreciate it.
With Autumn now upon us, there is still lots to do to prepare for our best growing season ever next year.
Our message of hope for COP26 is: "Don't underestimate the impact community gardens can have on the environment and the community. Have a go and get growing, get outside and use whatever space you have available."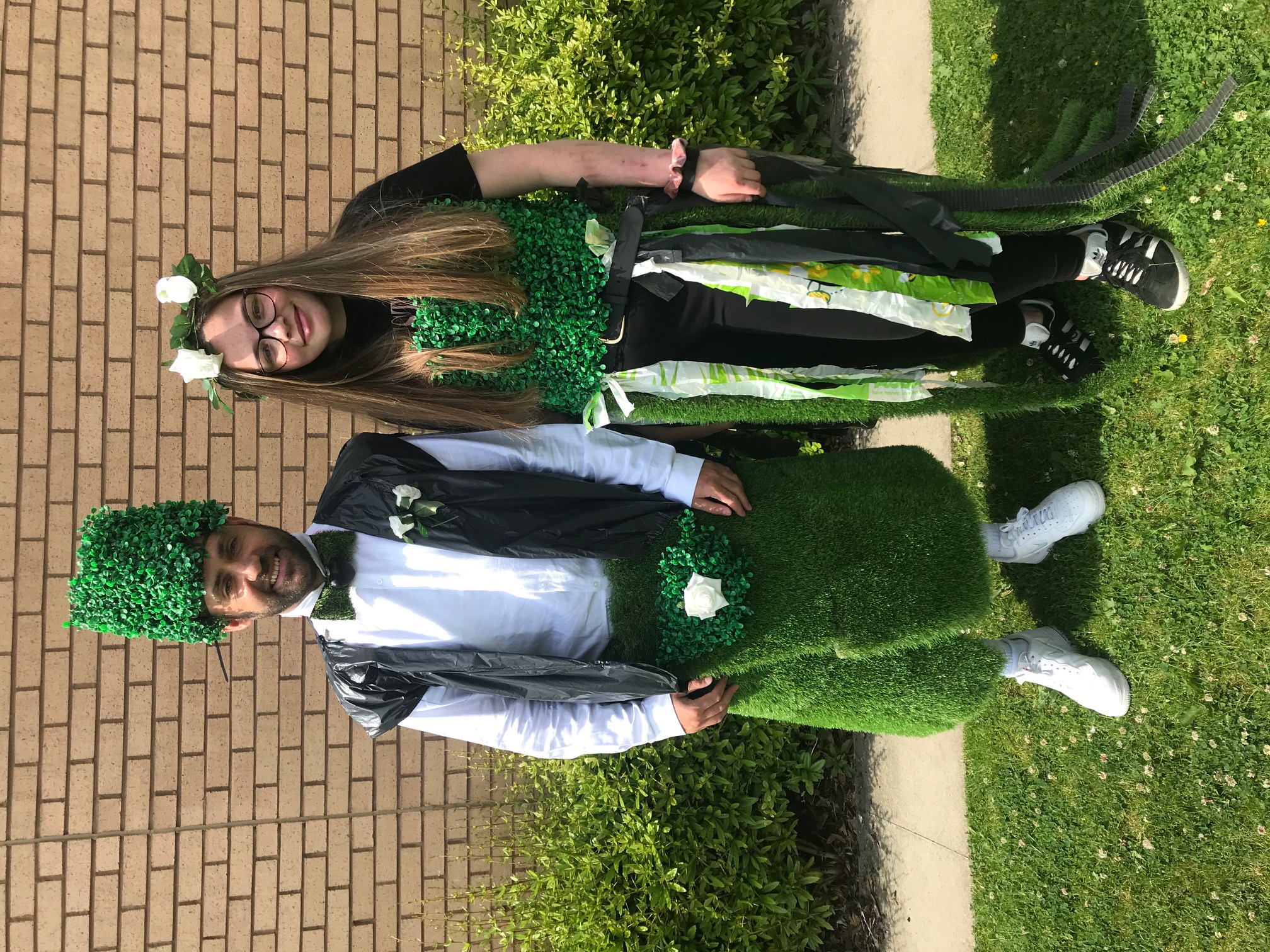 Kibble Education & Care Centre in Paisley's catwalk kids go green
During the first lockdown we wanted to give our pupils an opportunity to engage in a multi-disciplinary project where they could work together virtually and within their house bubbles to learn new skills, get creative, and gain enjoyment during a very difficult time. There was the added focus on sustainability and considering our wider environment. Conventional materials became difficult to source due to lockdown consumer shortages, and it was a logical decision to add 'recycling' as an objective.
The Kibble Virtual Fashion Show culminated in a 75-minute event which was a mixture of live and pre-recorded footage that streamed across Kibble's residential houses, celebrating all our pupils' achievements of learning throughout lockdown.
We planned the fashion show around four themes: Junk 2 Funk, Lockdown Loungewear, Reconstructed and Kibble Comic-Con.
'Junk 2 Funk' focused on repurposing conventional, everyday waste items into fun, silly and enjoyable art pieces. Dresses fashioned out of supermarket carrier bags, astro-turf hats, a wedding dress with a corset of bottle tops, a newspaper kilt, with matching sporran, a flattened drink can dress were some of the firm favourites, but the pièce de resistance was the full Scottish highland dress replicated in Aldi bags!
"Reconstructed' called on our participants to learn new skills in sewing and clothing-upcycling. We were generously donated clothing by the sustainable fashion company RE:Mode who also offered online classes in clothing upcycling. A new fashion concept was created by one pupil, a 'throwzie' created by combining a fleece throw with the hood and arms of an old hoodie. Mixing off-cuts of fabric together to create new clothing items, using applique techniques to rejuvenate old clothing became popular with many young people.
These themes allowed our young people to see vision and potential in unwanted items which would ordinarily be led to landfill and subsequently started dialogue about sustainability and recycling.
We are proud and inspired by what our young people achieved and as we plan future endeavours, sustainability is a perfect focus for positive change and if we are ever in any doubt that we can do it, we just need to reflect on our time throughout lockdown and COVID-19.
Our message of hope for COP26 is: "With collaboration, creativity and laughter, anything is possible."
Scotland Excel was established as a Centre of Procurement Expertise in 2008. We are a leading non-profit organisation serving Scotland's 32 local authorities and over 100 associate members from across the public and third sector. We are committed to delivering contracts which support a greener, Net Zero Scotland. You can follow our campaign 'Supporting Scotland's Green Recovery' on our website, Twitter and LinkedIn accounts and get involved in the debate using the hashtag #SupportingScotlandsGreenRecovery