Dundee City Council showcases home fire safety system
---

---
Council tenants across Dundee who are set to benefit from an £8 million upgrade in fire safety have been reminded how they can play their part.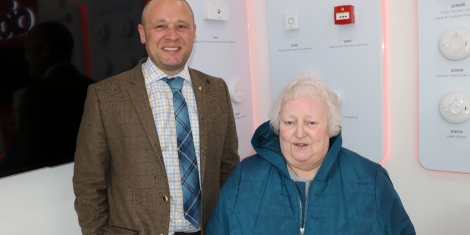 Work on installing at least one smoke alarm in the most frequently used room, at least one smoke alarm in spaces like hallways and at least one heat alarm in every kitchen is already under way in the city in the wake of new legislation.
Now tenants are being reminded that council staff need access to their homes to fit the potentially life-saving equipment.
And an exhibition set up in City Square last week to demonstrate some of the new equipment to be fitted in every council house over the next two years attracted a lot of interest.
Kevin Cordell, convener of Dundee City Council's neighbourhood services committee, said: "As you might imagine it's a big challenge to get access to every single council house in the city when you're talking about almost 13,000 of them.
"Letters requesting access for this work are being sent out and I would ask people to please respond to this as soon as possible. We need you to communicate with the council to help us ensure the safety of you and your family."
One anonymous tenant who was among the first to have the detectors and alarms fitted in her home said: "I was a little worried about it but the work only took about 20 minutes and the young man was very polite and friendly. I was amazed when he asked me where my Hoover was and cleaned up the little bit of sawdust that had been produced!"
Rita Smart, chair of Dundee Federation of Tenants Associations, has previously backed the council's approach. She said: "We will be working closely with the council and tenants to get the message out about how important it is that tenants facilitate access to let the council carry out this essential work."