EHRA hosts General Election 2019 hustings
---

---
Easterhouse Housing and Regeneration Housing Alliance (EHRA) welcomed residents from across Greater Easterhouse to listen to candidates from the political parties standing in Glasgow East at the General Election on 12 December 2019.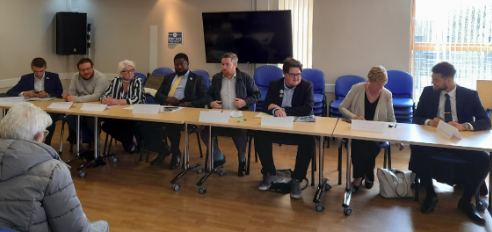 One of only two hustings events held in Glasgow East, this was a popular event attended by more than thirty people.
The EHRA hustings held at Blairtummock Housing Association Community Hall in Easterhouse was an opportunity to pose questions to Conservative, Labour, Liberal Democrat and Scottish National Party candidates.
Alan Ferguson, independent chair from SHARE, introduced candidates to the event. In the opening remarks, James Harrison, Liberal Democrat, said he would stop Brexit, build new homes, provide additional funding for mental health and tackle the climate emergency, if elected. Thomas Kerr would build on his track record as a local Conservative councillor and stop further referendums on independence and Brexit.
David Linden from SNP would, if elected, build on his track record as local MP since 2017 and continue to raise issues that affect his constituency and change the benefits system. Kate Watson, Labour, if elected as the largest party, would stop Boris Johnston and the policies of the Conservative party that were impacting on the Glasgow East constituency.
The first question from the floor asked candidates about Brexit. The subsequent two-hour discussion covered a wide variety of topics including Universal Credit, in-work poverty, austerity, energy costs, education, tariffs on Scottish whisky, taxation and tax avoidance, WASPI women and local bus transport. The final question tackled the tragedy of drug deaths in Scotland.
Alan Ferguson thanked everyone for attending and encouraged everyone to vote on 12 December 2019.
A donation to Glasgow North East Foodbank was made at the event.