End Youth Homelessness launches second campaign phase
---

---
The national movement of local charities which placed sculpture exhibitions in UK train station to raise awareness of youth homelessness has recently launched phase two of the campaign.
The #NOWYOUSEEME campaign by End Youth Homelessness (EYH) depicts the stories of three homeless young people through the prism of their friends, who have missed the tell-tale signs that they are homeless.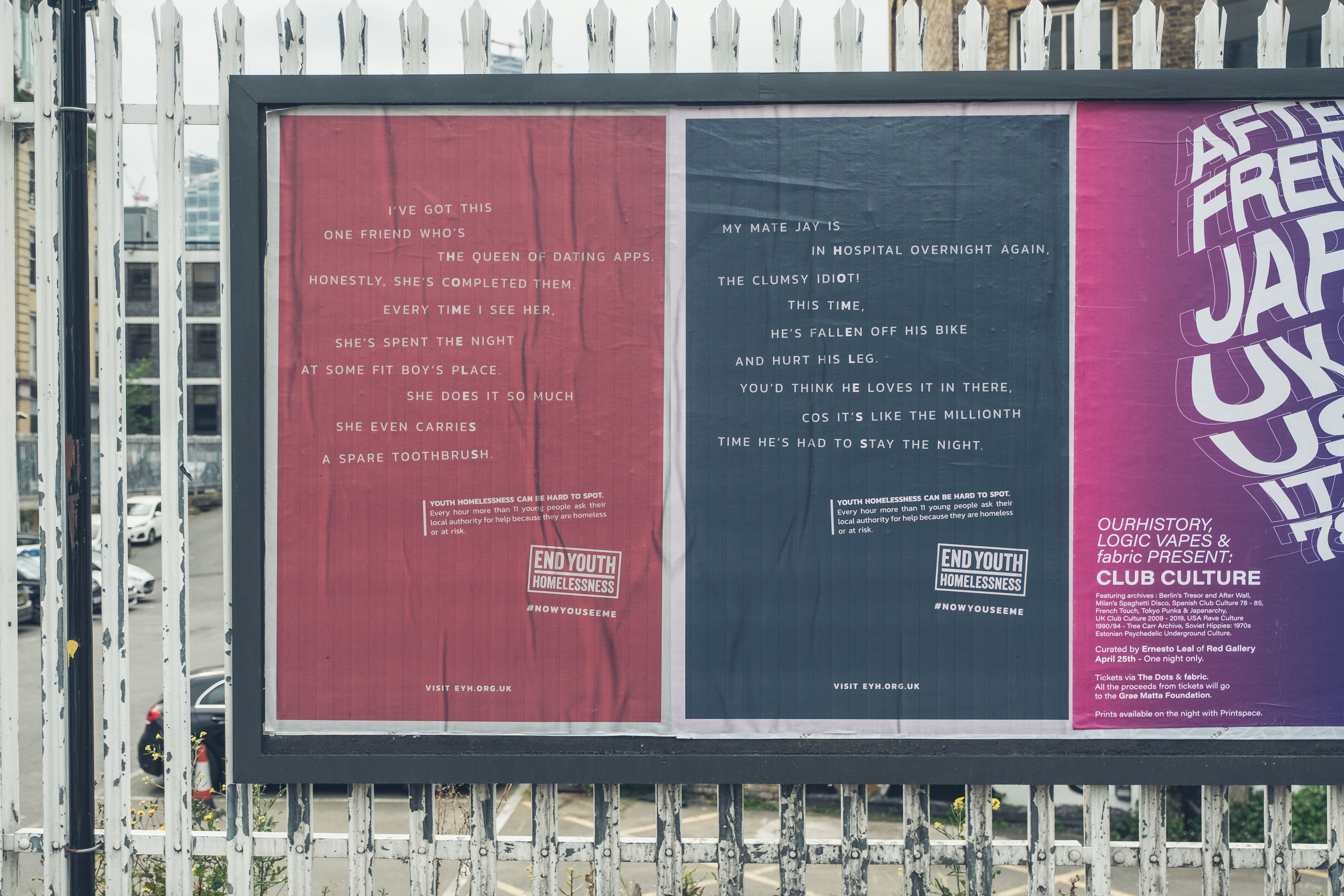 The message is striking; every hour, a shocking 11 young people ask their local authority for help because they are either homeless or at risk.
Last year, 52% of these young people received no documented support whatsoever. With nowhere else to turn, many are forced to 'sofa-surf'; sleeping on the floors and sofas of friends or acquaintances. Once they exhaust goodwill they often resort to more desperate measures – sleeping on night buses, injuring themselves for a hospital bed, trying to find a 'date' for the night, or worse. Worryingly, the hidden homeless of today often become the rough sleepers of tomorrow.
Although the stories are fictional, the scenarios are very real occurrences amongst 16-25 year-olds:
Ben hides his homelessness by sleeping on the night bus…
Jay is always in and out of hospital…
A nameless girl uses dating apps to find "dates" each night…
The posters are appearing in 108 sites across London, Cardiff, Bristol, Sheffield, Manchester, Edinburgh, and Glasgow.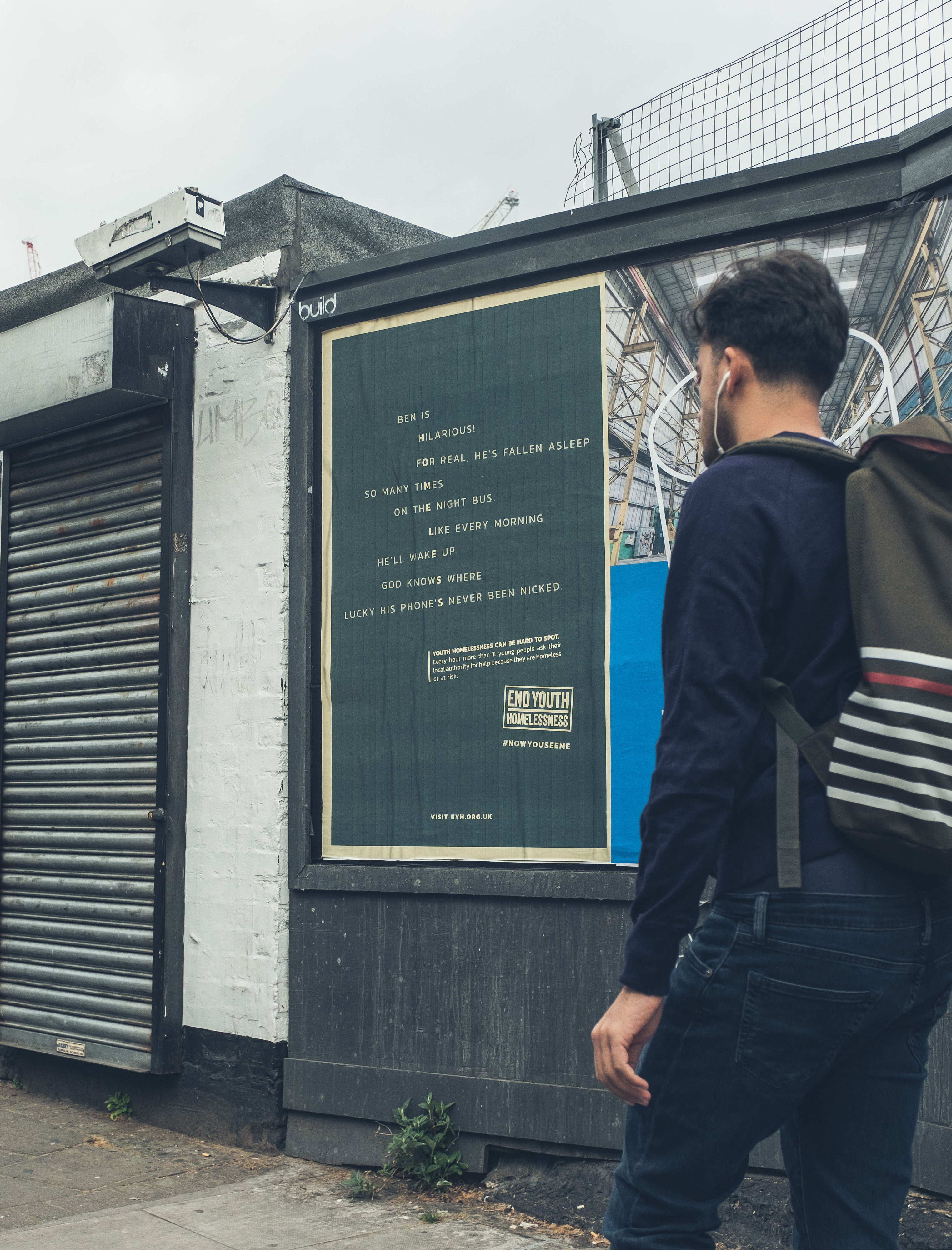 Creative for the campaign has been provided by Truant London and media space donated by Jack Agency.
The campaign marks the second phase in EYH's 2019 strategy - #NOWYOUSEEME – to shine a spotlight on hidden homelessness. In Phase 1 of #NOWYOUSEEME, EYH teamed up with artist David Oliveira and a collective of the UK's biggest name production companies to place "invisible" sculptures representing the young hidden homeless in prominent locations around the country.
The sculptures began their UK tour at London's Design Museum on March 21 before moving on to key train stations and shopping centres in London to Glasgow, Edinburgh, Manchester and Birmingham, where they will continue to be exhibited through April and May.
Nick Connolly, MD at End Youth Homelessness, said: "The public struggles to relate to youth homelessness because it cannot imagine sleeping rough. In fact, youth homelessness is about hidden homelessness, which is usually about vulnerable people taking desperate measures to avoid sleeping rough because their families have broken down.
"EYH is very excited to be working with Truant London and Jack to shine a light on the shocking decisions young people are forced make in order to find somewhere to sleep, and to help the public spot the signs of hidden homelessness in their own communities."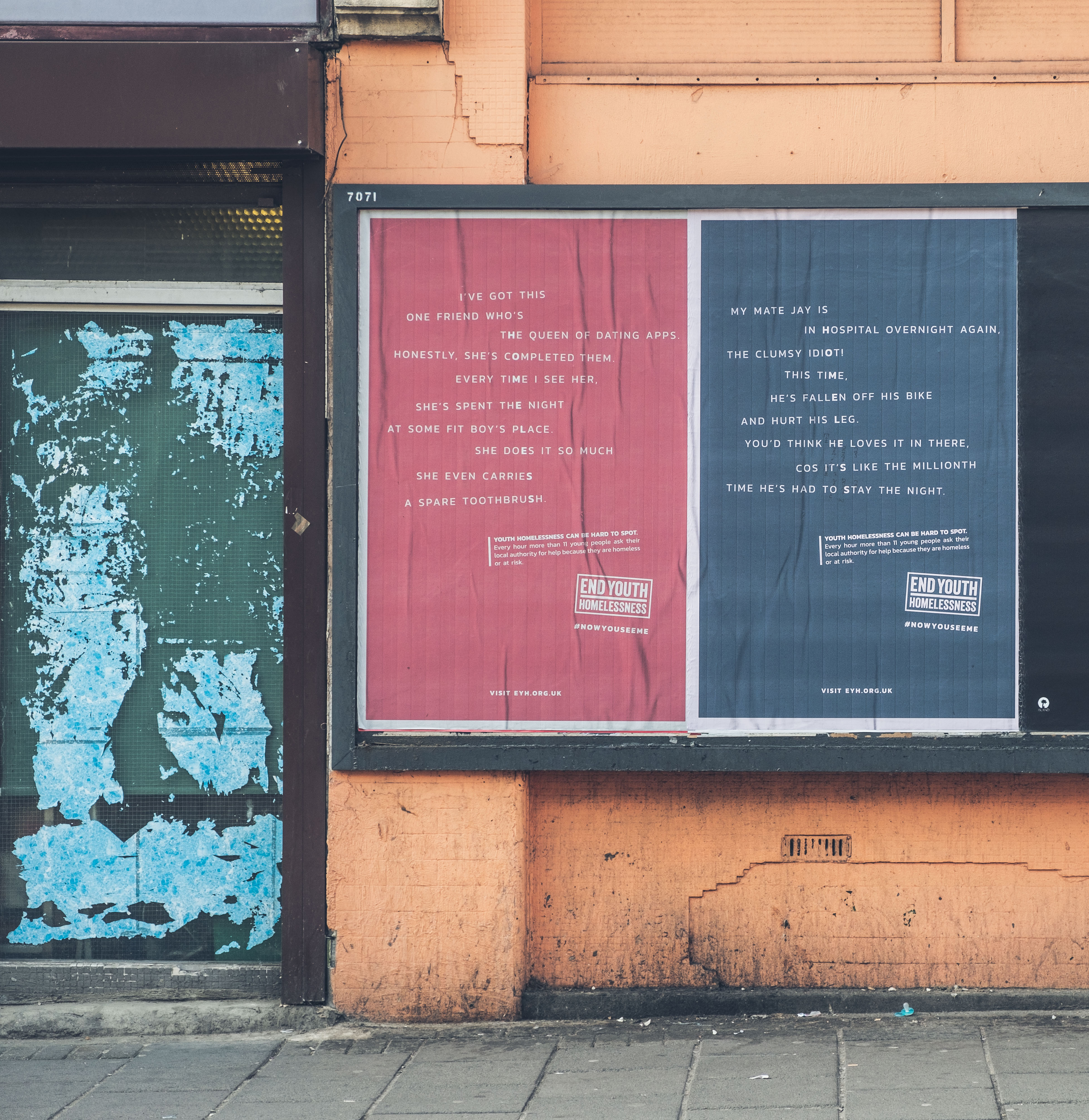 Simon Labbett at Truant London said: "It's all too easy to revert to stereotypes when thinking about youth homelessness, and whilst the obvious signs remain a problem, lurking in the shadows exists a much bigger problem, a problem that may well be affecting someone you know. It's not just about sleeping on the streets; it's about not having a place to call home. We wanted to highlight some of the incredible stories we've learnt since working with End Youth Homelessness."
Khaly Nguyen, marketing manager at Jack, added: "When people think of homelessness they usually think of rough sleepers on the streets, but that's just the tip of the iceberg. There are thousands of other homeless young people that you may never see. We wanted to use our poster sites as a platform to help EYH drive awareness around this important issue, we hope that passers-by will stop and take notice."