Fife Council commits over £5m to tackle flooding
---

---
An investment of over £5 million over the next ten years will help tackle flooding in Fife.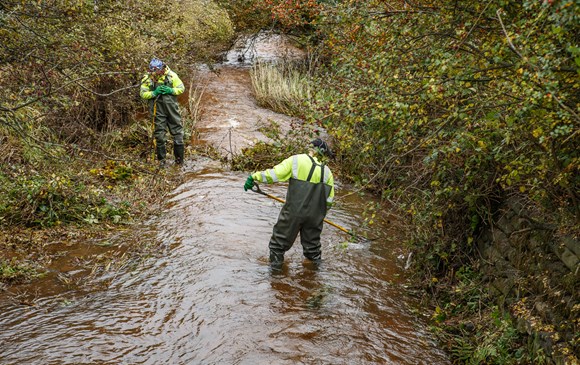 Councillors at a meeting of Fife Council's policy and co-ordination committee agreed the spend which will help improve the way the council responds to flooding emergencies and reduce the impact on local communities.
Following the severe flooding caused by extreme rain in August last year, the council has been learning lessons from the incident and planning to improve its response to future events.
Council co-leaders David Alexander and David Ross are making sure those plans are backed up by the funding needed to make a difference.
Cllr Alexander commented: "The devastation and disruption caused by the unprecedented weather last year had a huge impact on many people across Fife. There was damage to roads, structures, private properties and council buildings, as well as disruption to services.
"The list of follow-up investigations and mitigation measures is challenging. This funding will go a long way to help push forward flood prevention work over the next ten years."
Cllr Ross added: "Climate change is here to stay and the impacts of storm events like we had in August last year highlight the importance of regular, proactive maintenance of areas at risk, as opposed to making all our resources available for reactive works.
"We also need to work with communities and partners to build resilience and improve how we prepare for these events in the future."
Co-ordination of community support is a key area for improvement to help support residents and businesses affected by flooding, and the council is also encouraging communities to form their own resilience groups with council support.
The report agreed by councillors also outlined how the council will provide support to communities following a flooding incident:
Offer of temporary accommodation such as furnished property or hotel if needed
Complete welfare support applications for emergency funds
Provide, as required, equipment to assist with clear-up
Emergency welfare and food support
However, the council has stressed that private homeowners have to take responsibility for their own properties and the council is stressing that having the appropriate insurance cover in place is vital. Although council-owned properties are covered by the council's building insurance, tenants should make sure they have their own contents insurance in place to cover any damage to belongings.
Cllrs Alexander and Ross concluded: "Although we can't stop the rain from falling, there are things we can do to help alleviate the devastation severe rainfall can clearly cause, and we're delighted this investment is now in place."