Grampian Housing Association homes fitted with Tesla batteries to help reduce electricity bills
---

---
Local government, housing and planning minister, Kevin Stewart MSP, visited the Northfield area of Aberdeen last week to see how the Scottish Government's Decarbonisation Fund is helping Grampian Housing Association implement energy efficiency measures.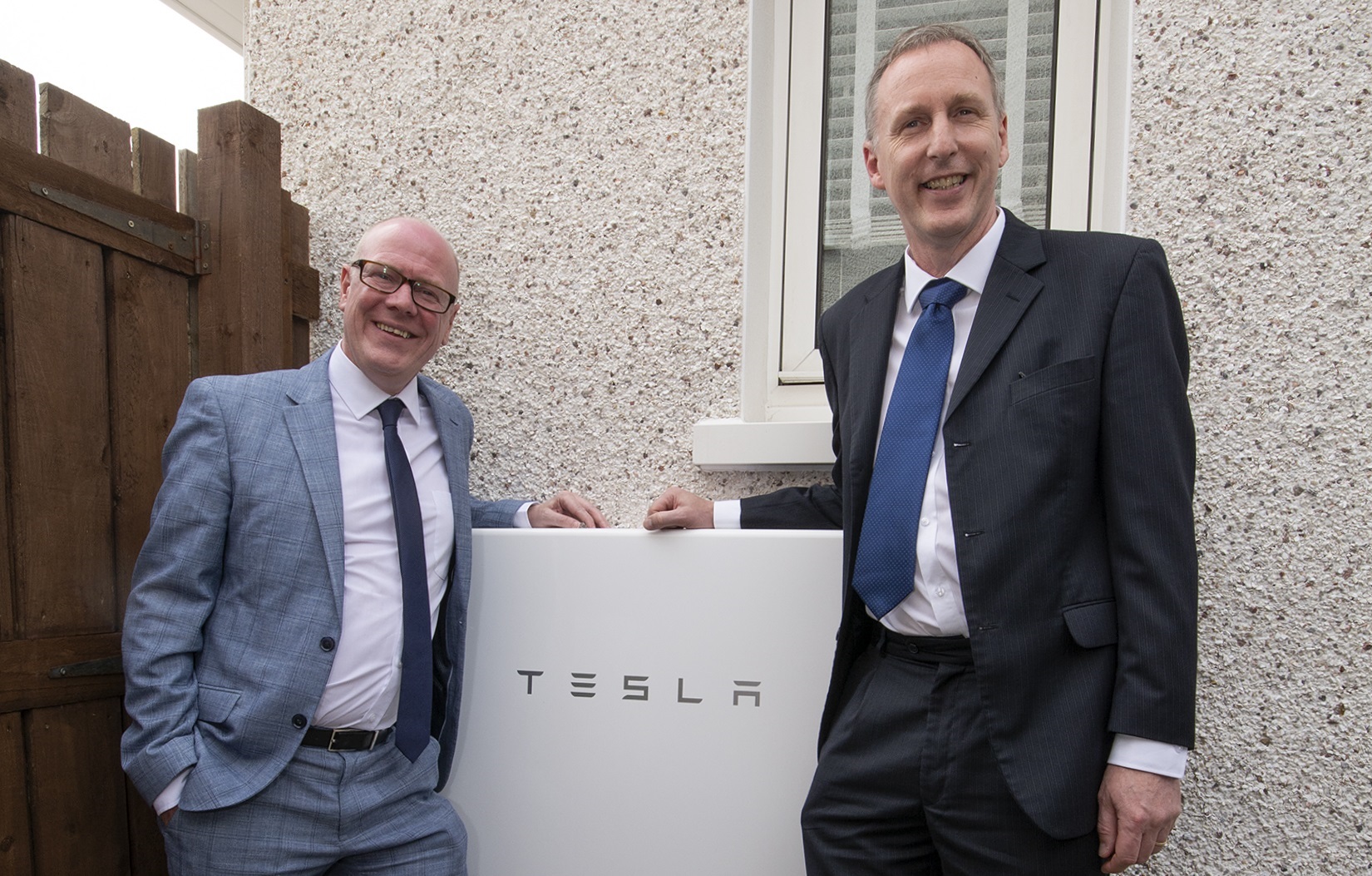 The Association's homes are the first to be fitted with Tesla 2 Powerwall battery storage units enabling tenants to store the free electricity generated from the solar panels installed on their roofs.
Orkney-based Solo Energy won the contract to provide Virtual Power Plant services through the batteries where they will be able to store lower tariff electricity to help tenants make further savings. AES Solar is undertaking the installation work.
The traditionally difficult to heat properties have also received external wall insulation which is helping to retain heat inside the properties, making the homes more comfortable during the colder months.
These energy efficiency measures have been made possible by a successful grant application to the Scottish Government's Decarbonisation Fund for £233,057.62 which represented 50% of the total project cost of £466,115.24.
With the funding, 50 of the Association's properties across Aberdeen City, Aberdeenshire and Moray will have battery storage units installed. For those properties with solar panels, this will allow even bigger savings. In addition, 10 traditionally difficult to heat properties in the Northfield area of Aberdeen received external wall insulation.
Chris Hunt, business development officer at Grampian Housing Association, said: "This fund is a great incentive to consider technologies that often Registered Social Landlords would otherwise be unable to afford, but from which the greatest savings to tenants and the environment can come. This has been one of the best funds to come from Government and we would like to see this continue as we look to try to decarbonise heat as well as move towards the requirements of the energy efficiency standard for social housing.
"We are committed to improving conditions for tenants who find themselves struggling with their energy bills. The range of energy efficiency measures installed can see households reducing their electric bills from between £90 and £200 per year."
One tenant said: "When the solar panels were installed I saw a big difference in our electricity bills and it's exciting to be amongst the first tenants to have battery storage. Along with the external wall insulation I really noticed in the colder months that we were turning our heating on less often."