Green light for around 300 Aberdeen flats
---

---
Councillors have approved plans for around 300 homes in Aberdeen.
Developers First Endeavour LLP will build 283 flats across four five-storey blocks at Wellshead Road in Dyce.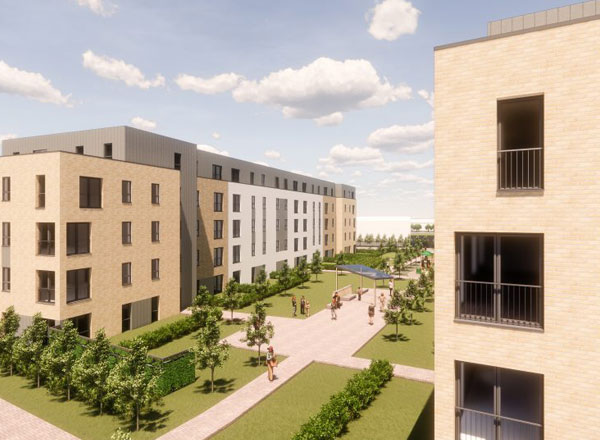 The original plan was for 302 flats to be built across five blocks, but the proposal was revised following objections from the local community.
Aberdeen City Council's planning committee voted seven to two in favour of the project after council planners had recommended that the development should go ahead.
First Endeavour said the development would provide much-needed housing, and may attract key workers to the city.
Concerns had been raised that the project would cause a rise in antisocial behaviour but councillors dismissed these as "stigmatised" fears.
Planning convener Marie Boulton said it was "very wrong" to assume that people living in a certain type of housing would bring trouble to the area, and dismissed their concern.
Mrs Boulton said: "This development is much-needed. We are desperately short of affordable and social housing in the city, and we've had a developer come forward with what I think is a very good scheme, adapted from the original application with a reduction in buildings, and an increase of open spaces.
"It's good to see a piece of what was basically abandoned land turned into vital housing."
Among the objections lodged with the city council was one which read: "It is a statistical certainty that such a large scale social housing development will lead to an increase in crime and antisocial behaviour.
"We have already a problem recently with vandalism and theft".
During the debate, Mrs Boulton acknowledged the concerns.
She added: "There was some concern voiced by some objectors that this type of housing attracts antisocial behaviour.
"It is very wrong to stigmatise people from a particular housing type by suggesting that because they live in affordable housing that they're somehow prone to antisocial behaviour.
"Surely in 2019, we should be past making these kind of assumptions.
"This is about ensuring people have a roof over their head, and we've got a moral obligation to provide social and affordable housing in the city – and this development will help with this obligation."
A spokesman for First Endeavour LLP welcomed the decision to approve the project.
He said: "We're obviously delighted at the planning approval, and we look forward to starting on site and fulfilling the wishes of the many teachers, teaching assistants and nurses that are priced out of the market at the moment and in desperate need of more council housing."