Information on housing rights for EU citizens after Brexit to feature in upcoming seminar
---

---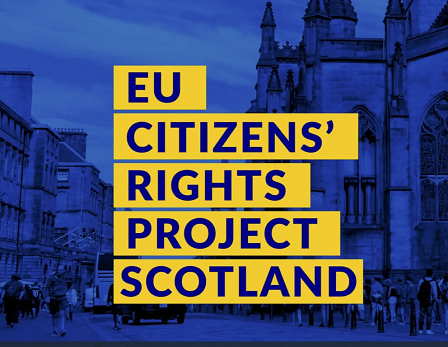 Some of Scotland's most experienced lawyers working in the field of EU citizens rights will be speaking at a seminar in Edinburgh next month.
The seminar aims to provide essential training and updates about the rights that EU citizens in Scotland now have after Brexit.
Understanding the law on citizens rights, particularly on the 'settled status' scheme for EU citizens who wish to remain in the UK after Brexit is likely to be important for many lawyers and other advisers. Those who provide public services, including social housing landlords, will need to understand what settled and pre-settled status means for their tenants, applicants, and employees.
This seminar will also look at EU citizens rights more generally, including rights to equal treatment in accessing public services such as housing and benefits.
The seminar will take place in Edinburgh on the morning of Monday 23 March. The speakers will include Alan Caskie, Advocate, who is one of the most prominent Scottish practitioners in immigration law; Kenneth Campbell QC; Janey Armstrong, a partner at Scotland's biggest immigration lawyers, Drummond Miller; and Mark Lazarowicz, Advocate, who is also chair of the Citizens Rights Project which is organising the seminar.
The full list of topics for the seminar is the following:
EU citizens' rights in the UK under the EU-UK Withdrawal Agreement
Settled Status and pre-settled status
Issues in applying for settled status: Janey Armstrong
The experience of applicants for settled status
The 'suitability test' – the consequences of criminal convictions
Mark Lazarowicz said: "EU citizens and their families make up more than 5% of Scotland's population, in some areas considerably more. Questions and issues about settled status, and EU citizens rights generally, are likely to feature more and more in the case load of many solicitors and those delivering public services.
"There is already evidence that some organisations are already applying the rules on EU citizens' rights in an unlawful manner. We hope that this event will help ensure that EU citizens in Scotland obtain the rights and immigration status to which they are entitled, and those who work with them or provide services which they use, fully understand the new law, procedure, and rules as well."
The seminar will offer 3 hours CPD. Places cost £25 per person (£15 for trainees and students), plus Eventbrite booking charge. For more details and registrations, see here.