Kevin Stewart MSP: Housing to 2040 is never more needed
---

---
In the week that the Scottish Government published Scotland's first long-term housing strategy, housing and planning minister Kevin Stewart tells Scottish Housing News about the background of Housing to 2040, the principles behind the strategy and what is required to achieve its aims.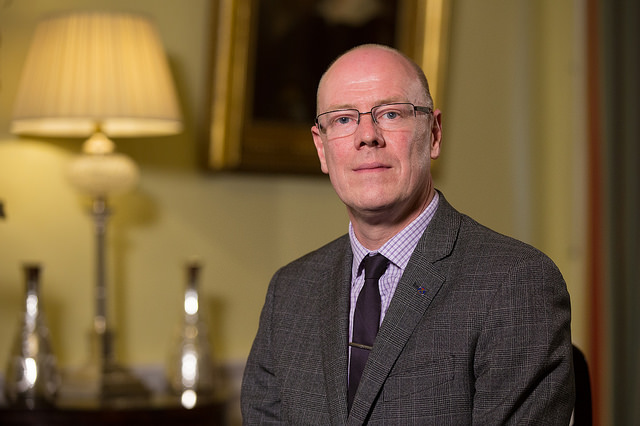 Housing plays a fundamental part in all of our lives and communities. As we rise to the challenges the next two decades will bring, from recovering from the pandemic to tackling climate change and supporting our ageing population, we know that ensuring every one of us has a home that meets our needs will be crucial. This means homes which are accessible and affordable; warm and sustainable within a thriving community near the services people rely on.
Affordable housing can help to reduce poverty and inequality, as people spend less of their income on housing costs and more on other essentials in life. This is why we have kept our poverty levels down and better housing also in turn can lead to better health outcomes, improved educational attainment and we feel more grounded in our communities.
Over the last 14 years, the Scottish Government has transformed the way we view affordable housing. We have already delivered almost 100,000 affordable homes since 2007, with an emphasis on homes for social rent.
Building affordable housing for people and communities remains a priority as we face up to the challenges ahead. That is why we decided to develop Scotland's first long-term national housing strategy. This is never more needed as the pandemic has underlined the vital importance of having a safe warm place to call home. Housing to 2040, published this week, sets out what we want our homes and communities to look like over the next 20 years and a route map to achieve our aims.
The strategy contains measures to tackle empty homes and poor housing, increase energy efficiency and reduce fuel poverty. Vitally it also sets an ambitious target of delivering another 100,000 affordable homes by 2032 with 70% for social rent. It includes proposals to set a single set of standards for housing quality in all tenures and accessibility, and to support fair, accessible private and social rental sectors through a Rented Sector Strategy which will be underpinned by legislation.
Housing also has a vital role to play in our efforts to tackle climate change. Housing to 2040 sets out plans, which we are currently consulting on in the draft Heat in Buildings Strategy, to decarbonise heating in all homes. This will be done while ensuring we continue to tackle fuel poverty in line with Scotland's fuel poverty targets and climate ambitions in a fair and just way. That's why we are aiming for all new homes delivered by Registered Social Landlord's and local authorities to be zero emissions by 2026. In addition our recent scoping consultation on the New Build Heat Standard highlighted how work is already underway to develop new regulations to ensure that, from 2024, all new homes in Scotland use zero emissions heating systems.
As we recover from the COVID-19 pandemic, housing will also be important for economic growth: investing in high quality, energy efficient and zero emissions housing means investing in construction and related sectors and supporting jobs. Our target for 100,000 more affordable homes will support a total investment package of around £16 billion and up to 14,000 jobs a year. On top of this, the total investment needed from public and private sources to decarbonise Scotland's domestic and non-domestic buildings is estimated to be about £33 billion over the period to 2045. This transition is likely to support around 24,000 green jobs a year as investment reaches its peak towards the end of this decade.
To meet our twin aims of sustainable, affordable homes we want to be guided by expertise from across the housing sector. We will start with a focus on the social housing sector, which is already leading on this vital work, I have asked Sally Thomas, Chief Executive of the Scottish Federation Of Housing Associations, and Aubrey Fawcett, Chief Executive of Inverclyde Council, to jointly co-chair the Zero Emissions Social Housing Taskforce (ZEST). ZEST will bring together key strategic organisations and practitioners with experience of delivering decarbonisation projects in the social sector to drive progress towards our aim of zero emissions housing.
ZEST will be convened later this month and will be independent of government. Ministers have set out specific framing questions to inform the work of ZEST, and to focus on actions that will boost the pace of decarbonisation across Scotland.
We started work on Housing to 2040 before COVID-19 and the impact of the pandemic will need to be continually taken into account. The past year has shown us that we must be agile and able to respond when things change.
The Housing to 2040 vision and principles, shaped through extensive consultation with the housing sector and wider public, gives us a framework for decision-making which will enable us to continually adapt to what is ahead over the next twenty years. The ambitions and actions we are setting out now mean we will be able to support people and our wider actions for a fairer, greener and stronger Scotland.