Living Rent launches new survey with call for communal hygiene legislation
---

---
Living Rent has launched a new survey to gain a clearer idea of how coronavirus has affected working and living conditions for tenants in Scotland.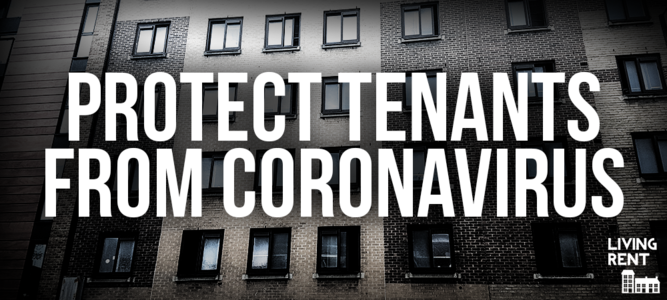 The tenants' union said the pandemic has seen people having to choose between paying rent and being able to afford essential items and it claims that landlords in the social and private rented sectors are failing to carry out crucial repairs and services.
An open letter has also been sent to housing minister Kevin Stewart which calls for RSLs to be "legally mandated to maintain the highest possible levels of communal hygiene".
The letter demands:
Daily deep-cleaning of communal areas every two hours (as committed to by Cube Housing and GHA) including lifts in multi-storey blocks. This must include floors, doors, walls, handrails, lift and door buttons, and anything else that it could reasonably have been touched by anyone.
Provision of hand sanitiser in all communal areas together with sanitising cleaning wipes, both of which should be regularly topped-up.
Ensure all staff tasked with cleaning are provided with the proper PPE - FFP3 masks and gloves, with a sufficient supply to be changed as required and sufficient on-site provision for staff to be able to safely change and dispose of potentially contaminated workplace clothing; staff should not be expected to take potentially contaminated workplace clothing back into their homes.
Community information campaigns including, but not limited to, and displayed in all blocks: strong '1 in the lift' advice; clear guidance on social distancing and the importance of following personal protective behaviours; display of contact details for tenant union reps, councillors, MSPs, local community organisations; and deep cleaning schedules.
These extra provisions must not be paid for by tenants or used to retrospectively justify increased rents.
The survey has been launched in partnership with Better than Zero and can be found here.
Read all of our articles relating to COVID-19 here.