New Gorbals Housing Association hosts UN Conference
---

---
New Gorbals Housing Association hosted the first full day of activities of the United Nations Economic Commission for Europe (UNECE) conference on City Living on September 12th.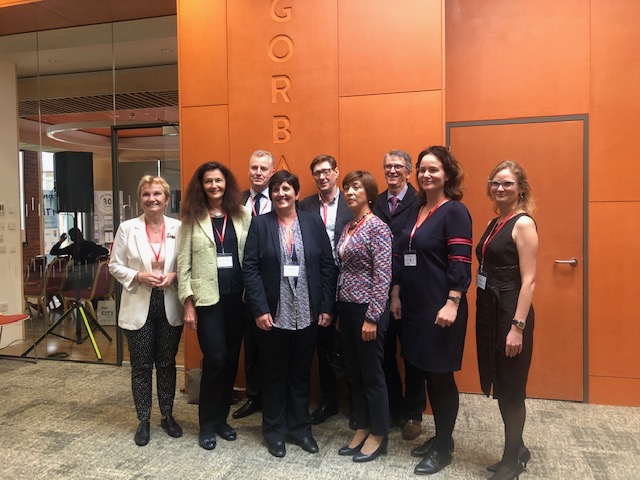 The association was invited to host the first day of the conference which ran from the 11th-13th of September.
UNECE has 56 member states - ranging from North American to Europe, Russia, Scandinavia, and Balkan and Central Asian countries.
New Gorbals Housing Association held the conference in its new office building on Crown Street. The conference was chaired by Glasgow's City Urbanist professor Brian Evans and New Gorbals' chairperson Linda Malone welcomed the delegates to Glasgow and the Gorbals.
Speakers at the conference included Dr Elena Szolgayovά, chair, and Daniela Grabmϋllerovά, vice-chair, of the UNECE Committee on Housing & Land Management, James Strang, president of The Chartered Institute of Housing and chief executive of Parkhead Housing Association and Patrick Flynn, head of Housing Services for Glasgow City Council.
New Gorbals Housing Association director Fraser Stewart presented on the regeneration story of the Gorbals and delegates were given the opportunity to join a guided walking tour of the area.
A draft Glasgow Declaration on City Living was discussed by delegates in preparation for submission to the UNECE Committee for Housing and Land Management in October.
Linda Malone, chairperson of New Gorbals Housing Association, said: "It was a privilege to accommodate this conference in our new space. Like most of my fellow committee members, I have lived my life in the Gorbals, and I have to say that hosting a UN conference in this community is a very proud moment for me and for the Association."
Professor Brian Mark Evans, Glasgow City Urbanist, said: "The organisers were delighted to welcome a great mix of international, Glasgow, UK and Scottish friends and colleagues to participate in the UNECE Glasgow Conference 2019 in the heart of the Gorbals, and we thank Linda and everyone at New Gorbals Housing Association for their hospitality, smiles, and a great venue on day one. The Gorbals presentation and walking tour were inspirational, and delegates were amazed by the scale and quality of urban renaissance that community ownership and local control in Gorbals has achieved."