New logo unveiled to mark 40 years of Thenue Housing
---

---
Thenue Housing has embarked on a year of celebration to mark its 40th anniversary.
Its first act for 2019 is to unveil its anniversary logo which will become a feature of the celebrations throughout the year.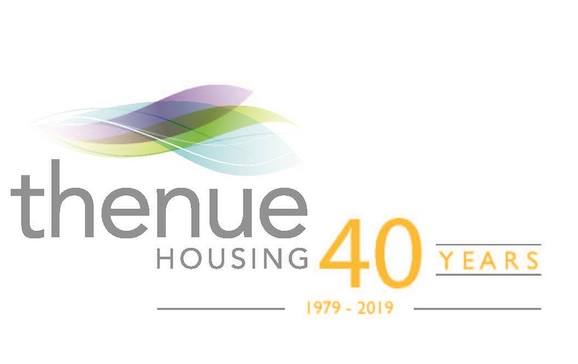 A programme of events has been finalised with a firm focus on ensuring customer participation and including all the Glasgow communities where Thenue has its homes.
Chief executive Charles Turner said: "We will ensure that our tenants and factored owners are fully involved in the celebrations which will run throughout the year.
"We have grown deep roots in our communities and this is a big celebration for the Thenue family and the people we serve. It will be a fantastic year of activity to mark four decades of Thenue."
Thenue has also written to its suppliers encouraging them to become involved in the anniversary celebrations.
Key highlights are:
A major gathering of members, supporters and partners to be held in October 2019.
The creation of a full size mural on a gable wall on London Road in the east end which will be a permanent, landmark piece of art.
Forty acts of 'random kindness' carried out by Thenue staff to benefit communities.
A renewed focus in getting unemployed people into work as part of a newly-launched 'Choices for Change' programme.
Offering 40 weeks rent at 1979 prices in a series of free draws for tenants.
An event in each community in June where Thenue's affiliated 'Area Associations' operate.
Specific focus on older tenants with a tea dance.
A bursary scheme to enable people to learn new skills or purchase books or equipment related to learning.
Thenue takes its name from St Thenue (later known as St Enoch) who was the mother of St Mungo, Patron Saint of Glasgow.
The Association began life in October 1979, starting in a small basement office in Anderston with one member of staff.
Founded to provide development and management services to associations that were too small to employ their own staff, Thenue has grown substantially now owning and managing over 3500 properties across Glasgow.
The move to the city's east end came in 1995 and in 2012 the Association moved the short distance from Green Street to new purpose-built offices on London Road.