Planning application submitted for new zero carbon quarter of Edinburgh
---

---
Developer and investor Parabola has submitted a planning application to the City of Edinburgh Council for the residential-led phase of the development of the new zero carbon quarter of the city.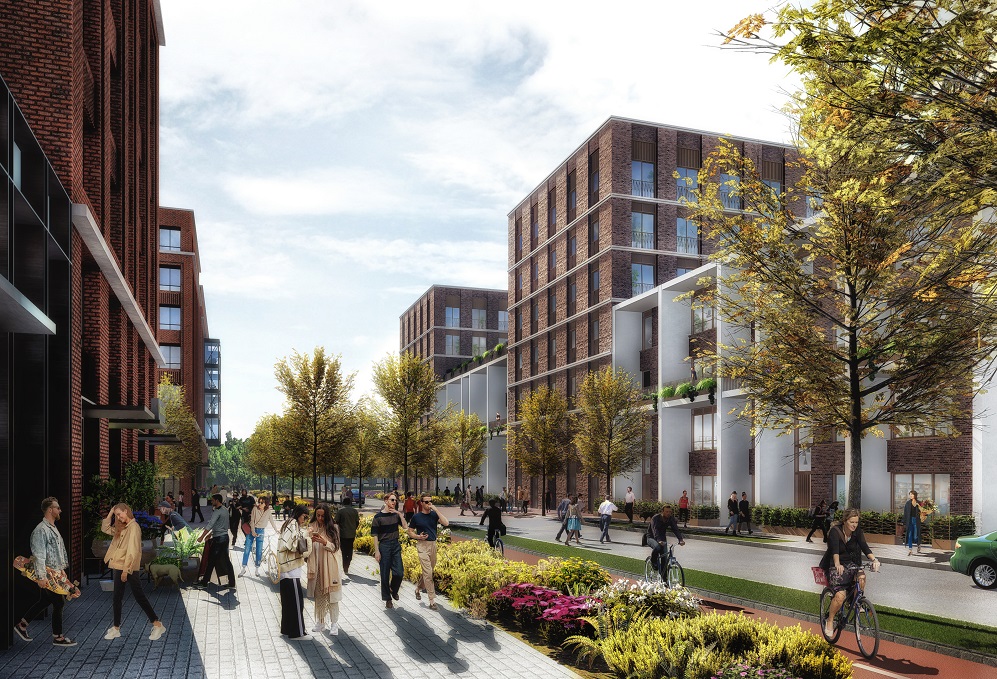 Parabola owns the 43 acres of undeveloped land to south of the existing Edinburgh Park and already has planning permission in place for the first speculative office buildings with work starting on site earlier this year.
The latest proposal complements the existing uses with new homes, commercial facilities, a public square all set within parkland and with a focus on sustainability and well-being.
The detailed planning application is focused on over 1,700 quality residential units with a predominance of apartments with a combination of private residential, build-to-rent and affordable homes ranging in size. The residential element will be complemented with over 350,000 sq ft of commercial space including a significant commercial hub and public square at Edinburgh Park railway station, a 170-bedroom apartment hotel, extensive high quality public realm including a large public park, play areas and carefully crafted gardens and exemplar outdoor space for new residents to enjoy.
Given the scale of proposed development of the remaining 33.4-acre site, which will be the largest mixed-use development in the city, Parabola has confirmed that delivery is to be phased. An immediate priority is to realise the affordable element on site.
Parabola's planning application will secure 25% affordable housing onsite, in a way that is viable, well-integrated and tenure-blind, and incorporates a range of approved tenures (including social rent by an RSL). The affordable housing all matches the high quality design and the proportions of the 1, 2 & 3 bedroom market units onsite. Parabola's proposed 434 affordable homes will be the largest number of affordable homes to have emerged from a single full application in the city, meeting in one go a significant portion of Edinburgh's affordable housing need.
Construction work on the Parabola vision for Edinburgh Park began last year but has temporarily halted due to the current coronavirus restriction on building. When the restrictions ease work will recommence on 1 New Park Square - the first speculative office development in Scotland which will be capable of operating carbon and emissions free, extending to c85,000 sq ft and completing in late 2021.
The first phase includes one million square feet of high quality offices, a new public square, sports and leisure facilities including football pitches and tennis courts, shops, bars, restaurants, a health centre, and extensive landscaping. There is also to be a performance arts space in the very first phase building constructed as part of the masterplan. This building will be designed to meet future workspace needs with flexible space for individual business users and businesses which will adapt to their needs.
Parabola's plans are the largest single site development proposals to be advanced in Edinburgh in the past decade.
Parabola recently received planning permission for its marketing suite, Mach1 designed by acclaimed artist David Mach which will be an arts space, café, event and marketing space – and a local landmark open for all to complement the parkland landscape its extensive collection of sculpture will be displayed at Edinburgh Park including returning Sir Eduardo Paolozzi's Vulcan to Edinburgh. This sculpture is considered "a monument to the modern industrial age".
Peter Millican OBE, owner and founder of Parabola, said: "Submitting the planning application for next phase of Edinburgh Park is a significant milestone for the Parabola team. We remain confident that our vision for a carbon neutral quarter of the city with well-being, the highest quality design in an unrivalled setting will create a world class place to work and to live at Edinburgh Park.
"The support and guidance of the leadership of the city council throughout the planning process has been greatly encouraging, we look forward to working with them to deliver this next phase of our vision."
Parabola's managing director Tony Hordon said: "We are delighted to be working with a world-class team in delivering this prestigious project. The residential-led element of our masterplan for the Edinburgh Park site complements an exemplar in commercial space and public realm so desperately needed by the city.
"We are pleased to be delivering a masterplan that will dramatically change the character of Edinburgh Park that creates a new zero carbon urban quarter for Edinburgh - offering new places to live, work and relax, with exceptional transport links."
Commercial agents JLL and C&W will be advising on the marketing and availability of the accommodation.