River Clyde Homes fundraises for Cash for Kids
---

---
River Clyde Homes was able to bring festive cheer early after securing £400 of funding from Cash for Kids for Christmas events in December.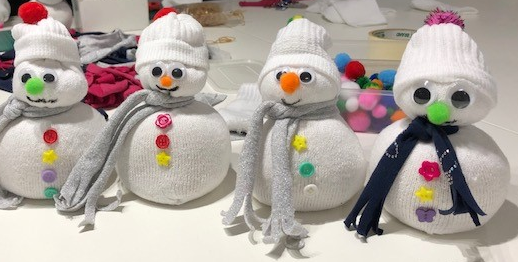 Four fun activity sessions were organised, facilitated by Belville Community Garden Trust (BCG) and River Clyde Homes staff, and the first event was held at All Saints Primary School.
Pupils and parents, with the help of BCG, were able to decorate planters to take home, concoct their own fruit kebabs and make some popcorn.
The fun continued at Belville Community Gardens, where families made festive wreaths to take home and had delicious home-made soup and sandwiches for lunch courtesy of BCG.
Next up was Larkfield Children's Centre in Greenock. Here, 2 and 3-year-olds had messy fun decorating their own planters and making fruit kebabs and popcorn.
The final festive event was held at Broomhill Court's, Suite 16 and was open to all kids and grandkids of Broomhill, Prospecthill and Whinhill Courts in Greenock. Sock snowmen and fruit kebab making kept the kids (and the big kids) amused.
All the children at each event got a selection box to take home courtesy of Cruden Homes.
Elaine Cannon, service improvement manger at River Clyde Homes, said: "We were delighted to be able to secure this funding from Cash For Kids and thank, All Saints Primary, Larkfield Children's centre and Belville Community Garden Trust for their help with all the events.
"River Clyde Homes are committed to Improving Lives and Places and we cannot underestimate the importance of bringing people together, especially at this time of the year. We want to thank all the children and their families who attended and wish them all a very Happy Christmas."