Social Bite and Malala Yousafzai launch international Sleep Out campaign
---

---
Malala Yousafzai, the youngest ever Nobel Peace Prize winner, is to work with Social Bite co-founder Josh Littlejohn MBE on an international collaboration which aims to support thousands of homeless and displaced people around the world.
During a visit by Ms Yousafzai to Social Bite's Vesta restaurant, Mr Littlejohn revealed that her charity Malala Fund will be a key partner and beneficiary in a major new project that will bring Social Bite's 'Sleep in the Park' concept to an international stage.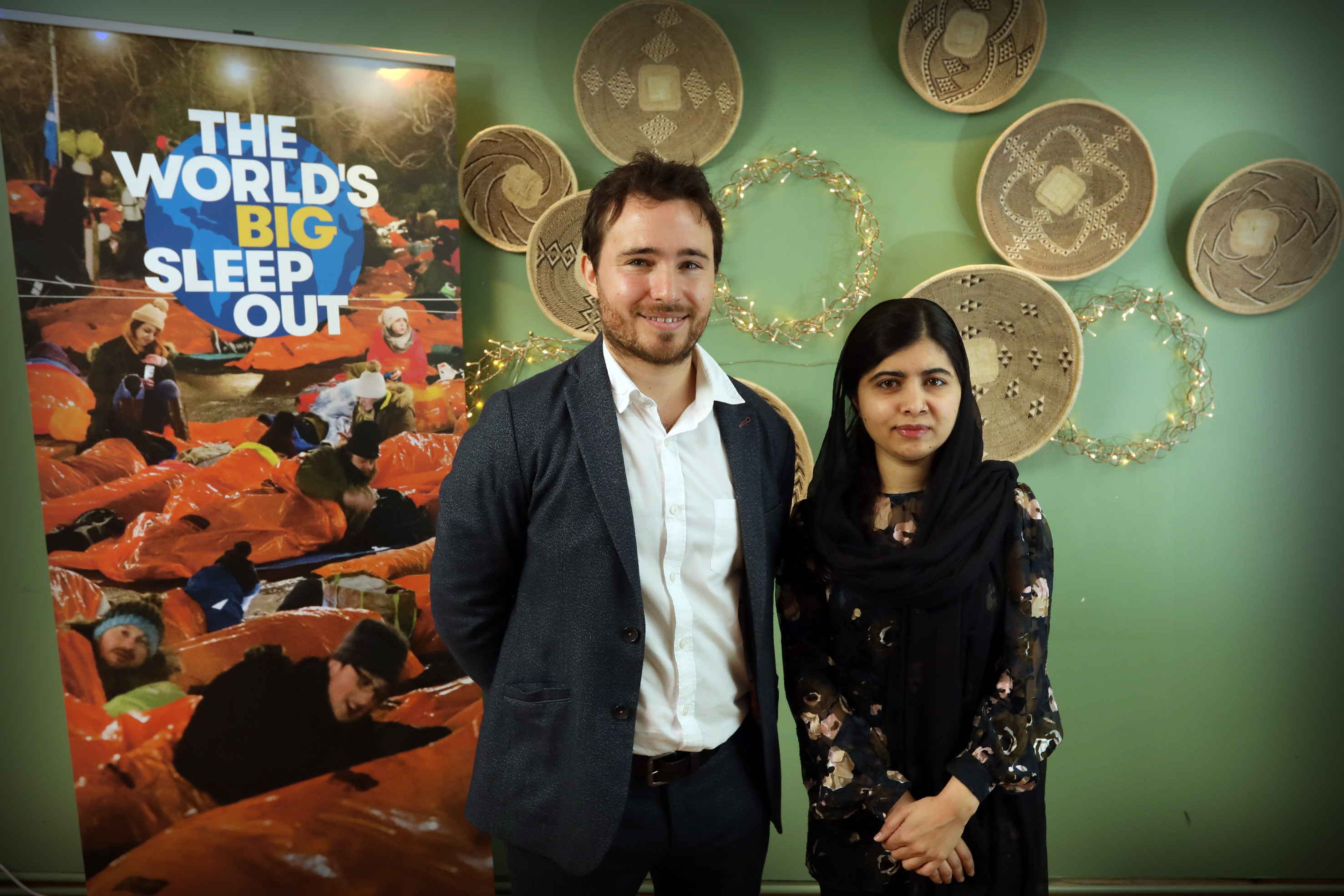 Josh Littlejohn's new project will see fundraising events take place in towns and cities across the world this December. The campaign will aim to see 50,000 people sleeping out on the same night, bringing global attention to the issue of homelessness and international displacement.
A fundraising target in the millions of pounds will be distributed to a range of homelessness and refugee focused charities throughout the world. As well as partnering with Malala Fund, the project will also work with UNICEF USA and the Institute of Global Homelessness to support thousands of homeless and displaced people with the funds raised.
During Malala's visit, she took part in a moderated Q&A with BBC Foreign Affairs Correspondent John Simpson CBE in front of 1,300 supporters of Social Bite. Malala spoke of her experience of being internally displaced in Pakistan and the work of Malala Fund.
The event was attended by the individuals who had raised the most amount of money for Social Bite's 2018 Sleep in the Park event on December 8. The mass fundraiser saw around 10,000 people give up their beds for the night, raising a total of £3.6 million.
Funds from Sleep in the Park 2018 have gone towards Social Bite's innovative Housing First initiative, which aims to get people out of temporary accommodation and into a secure home. Backed by the Scottish Government, the Housing First scheme is expected to take 830 rough sleepers off the streets by April 2021.
Malala Yousafzai, co-founder of Malala Fund, said: "Educated girls have the power to transform our world. But without a home or access to education, millions of refugee and displaced girls are unable to fulfil their potential. I am excited to partner with Social Bite and have their support for Malala Fund's work to get refugee girls get back in school."
Josh Littlejohn MBE, Social Bite co-founder, said: "It was such an honour for Social Bite to host Malala's visit to Scotland. Malala's fight for girls' education and the work her foundation does in supporting refugees and creating social justice is an inspiration.
"I'm thrilled that Malala's visit marks the announcement of our World's Big Sleepout campaign, to bring our 'Sleep in the Park' event concept to an international stage. We have seen the power of the events in Scotland in terms of raising significant funds to make a difference to homeless people and to shine the political spotlight on this issue.
"I am excited to work with our partners - Malala Fund, UNICEF USA and the Institute of Global Homelessness – to bring this campaign to the international stage and I hope we can make a big difference to many people who don't have a safe place to call home across the world."
Caryl M. Stern, president and CEO of UNICEF USA, said: "UNICEF USA is pleased to join The World's Big Sleep Out this December to raise critical funds and awareness for displacement in all its forms. UNICEF has long focused on the needs of children and families on the move around the world, and with tens of millions of children displaced today, this support will be lifesaving."
Dame Louise Casey DBE CB, executive chair of the Institute of Global Homelessness, said: "The Institute of Global Homelessness is honoured to partner with Social Bite, Malala Fund and UNICEF USA to raise funds and support for people experiencing homelessness around the world.
"We know that homelessness is an urgent deadly issue that affects people in all nations, but it is an issue that can be solved. The World's Big Sleep Out campaign will be an extraordinary step toward building a world where, within a generation, everyone has a place to call home – a home that offers security, safety, autonomy, and opportunity."
More details on the World's Big Sleep Out campaign will be announced next month.