Student spends summer volunteering as bingo-caller at Bield care home
---

---
A psychology graduate from Bannockburn has spent his summer volunteering as the bingo caller at a Bield care home in Stirlingshire.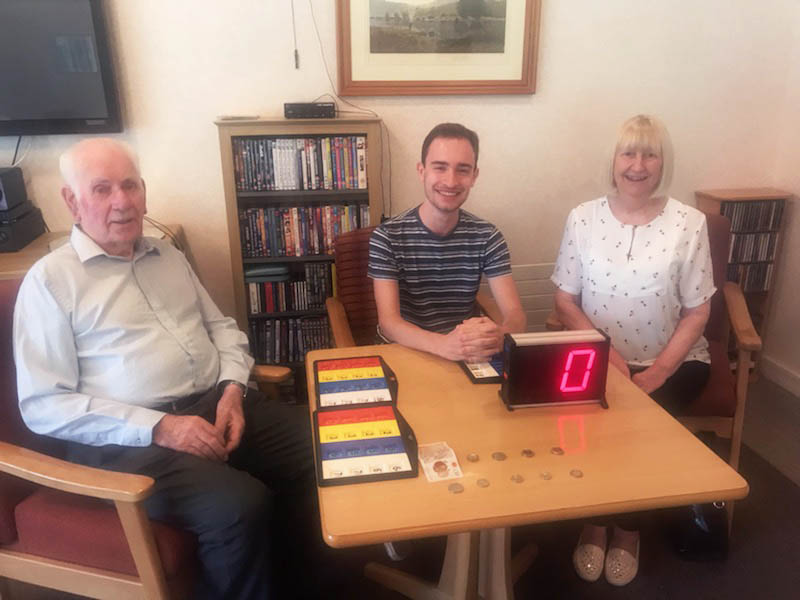 21-year-old Sam Conway spends his time at a Bield's Strathallan Court care home calling the numbers and afterwards chatting to residents over tea and cake.
Sam began volunteering at the care home in May, as he was eager to gain real-world experience after graduating with a degree in psychology from Abertay University in Dundee. He subsequently took on a social activities volunteer position at the Stirlingshire development and visits the tenants weekly.
Sam said: "I knew that I wanted to get some more experience before applying for my Masters so when I came across the position at Strathallan Court, I jumped at the chance. I'm really close with my own grandmother but I'm conscious that other older people may not have young people in their life that they can talk to. I don't really think of it as volunteering any more, I look forward to visiting the development. After the bingo, we'll sit down and have a chat and a cup of tea."
He added: "I love hearing all the tenant's stories and telling them all about my own life – they're always asking about the university and what it is that I'm studying. I'd urge anyone who is considering volunteering with older people to look into opportunities at Bield developments in their local area. I couldn't recommend it enough."
Development manager at Bield's Strathallan Court, Sandra Nicol, said: "From the moment Sam walked through the door for his interview, I knew he would make a great addition to our volunteer team. He is a natural people person and really outgoing – full of laughs and always up for a chit-chat. It's fair to say he's proved incredibly popular with the tenants and made a big impact in the short time he's been here. Sam now visits the development once a week to call out the bingo numbers. It's actually a very stressful role – our tenants take bingo very seriously - but he's taken to it like a pro. There's one tenant in particular that Sam seems to have made a great bond with. Mr Suttie used to call out the numbers, but since Sam took on the role he's been able to join in with the games and let his competitive side come through."
Sam has recently accepted a place on Glasgow Caledonian University's Forensic Psychology MSc course, but he plans to continue volunteering when he returns to his studies.